Soto, not Pierzynski, behind plate for Darvish
Soto, not Pierzynski, behind plate for Darvish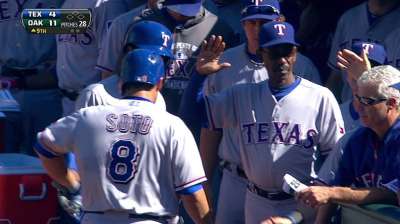 ARLINGTON -- Geovany Soto was behind the plate with Yu Darvish on the mound Monday night. A.J. Pierzynski had been the starting catching in seven straight games with Darvish on the mound, but was at designated hitter Monday.
Manager Ron Washington said the decision had nothing to do with any disagreements Darvish and Pierzynski may have had in his previous start against the Athletics last week.
"I didn't think of that," Washington said before Monday's game. "[Soto] did a good job [Sunday] and I thought I'd throw him a bone. No matter which one I catch, they both do a good job. Today I decided to go with Soto."
Soto was 2-for-3 on Sunday. Pierzynski said he has no issues with Darvish.
"Darvish and I are fine," Pierzynski said. "There's nothing there. That's it. Wash has been wanting me to take a couple of DH days and Geo had a couple of good at-bats [Sunday]."
With Pierzynski at DH, Lance Berkman was out of the lineup for the fifth straight game. He has not played since going a combined 0-for-6 last Monday and Tuesday against the Athletics.
"I understand it," Berkman said. "At this point in the season, you really can't afford to let a guy get his feet wet again when you're trying to win every game that's so crucial and you've had guys that have been in there playing pretty well. I understand it. The competitor in you obviously wants to be a part of things, but by the same token, I don't hold any grudges on anything that's gone on. It's just the circumstances of a playoff chase."
T.R. Sullivan is a reporter for MLB.com. Read his blog, Postcards from Elysian Fields, and follow him on Twitter @Sullivan_Ranger. Master Tesfatsion is an associate reporter for MLB.com. This story was not subject to the approval of Major League Baseball or its clubs.