Back in NY, Wright optimistic he'll play again this year
Back in NY, Wright optimistic he'll play again this year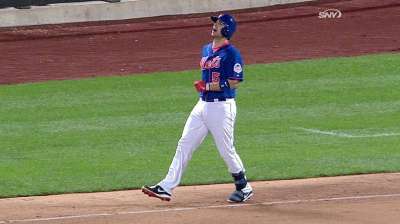 NEW YORK -- Mets third baseman David Wright flew back to New York on Monday, still optimistic he will play again this season.
"I don't think the clock is going to run out," said Wright, who has been on the disabled list since Aug. 3 with a right hamstring strain. "I think I'll be back at least for a larger chunk of the remainder of the games. That's the goal, and I haven't really even thought about not playing those."
Rehabbing in Port St. Lucie, Fla. for the past week and a half, Wright returned to New York because the organization's Florida base has all but shuttered its windows for the season. In Florida, Wright was regularly swinging a bat and participating in fielding drills, though he had not attempted to run the bases.
That, Wright figures, will be his next step at Citi Field, followed by live batting practice and perhaps a simulated game. Once he is cleared to play in games, Wright plans to join the Mets immediately rather than rehab with Class A Savannah, the lone organization's affiliate still playing postseason baseball.
Like Wright, the Mets remain optimistic that their third baseman will play again this season, even if it is only for the final few games. Prior to straining his hamstring, Wright was a legitimate National League MVP candidate, batting .309 with 16 home runs in 105 games.
"David Wright's a pro and he knows that we need him," manager Terry Collins said. "One thing about him, he loves to play. That's why when he shows up every day, he's in the lineup. Getting him out of the lineup is not that easy."
Anthony DiComo is a reporter for MLB.com. Follow him on Twitter @AnthonyDicomo. Chris Iseman is an associate reporter for MLB.com. This story was not subject to the approval of Major League Baseball or its clubs.