Pitchers do better job of holding runners against Royals
Pitchers do better job of holding runners against Royals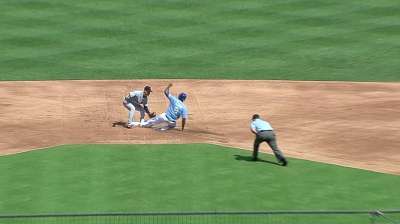 CHICAGO -- After 24 consecutive stolen bases off Detroit pitching, the Tigers slowed down the running game to an extent against Kansas City, throwing out two would-be basestealers in four attempts. One of those steals came on a pitchout when catcher Brayan Pena couldn't handle the throw.
They won't face quite as aggressive of a baserunning team the next few days, but manager Jim Leyland was encouraged from what he saw from his pitchers.
"I think we did a good job," Leyland said. "We're conscious of it. Sometimes they just get hung up on throwing to the plate and they forget about [the runner]. That's something that we focused on a little better this weekend. We did a pretty good job of it, really."
Some of that, Leyland said, was as simple as varying pickoff moves and varying when to throw over.
"You've got to have different variations -- hold the ball, don't hold the ball, go quicker, hold the ball longer, step off [the mound]," Leyland said. "The thing is, you can't get in a situation where once you come set, you never throw over.
"A lot of times, we throw over on the way up or throw over real quick. That sometimes serves a purpose if you can get a guy who's just taking a lead, because he gets caught leaning. But other times, once you come set, you've still got to throw over. But we did a pretty good job this weekend with it."
Jason Beck is a reporter for MLB.com. Read Beck's Blog and follow him on Twitter @beckjason. This story was not subject to the approval of Major League Baseball or its clubs.