Heyward to take batting practice Friday
Heyward to take batting practice Friday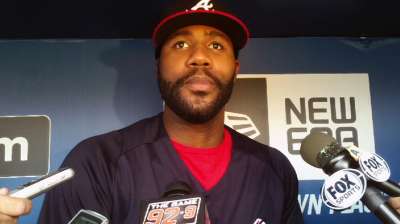 MIAMI -- It is still too early to know when Jason Heyward might return to Atlanta's lineup. But the Braves will get a better sense when Heyward completes what will be a relatively normal batting practice with his teammates before Friday night's game against the Padres at Turner Field.
"I think Friday will be clearly as close to normal as since he was hit," Braves general manager Frank Wren said. "I don't think you will be able to tell much different from a normal pregame."
Heyward's activities and diets have been limited since his jaw was fractured by Mets left-hander Jon Niese's fastball on Aug. 21. But he has made progress over the past couple weeks and gained some relief on Monday, when the bars and bands that had been restricting the movement of his jaw were removed.
Heyward has been cleared to begin eating more solid foods. Wren said the strong 24-year-old outfielder has maintained his weight with the help of the team's chef, who has been preparing him meals.
When Heyward begins increasing his on-field baseball activities on Friday, he will be wearing a mouth guard that he was fitted for on Monday. Last week at Turner Field, he was seen wearing a batting helmet that had a face guard attached to it.
After getting a chance to evaluate Heyward for a few days, Wren said he would then decide when it would be best to send the outfielder to the instructional league to get the at-bats he will need to compile before making his return.
"I think we were cautiously optimistic he would get back to baseball activity sometime in September," Wren said. "It's progressing as we had hoped. I know it is progressing as he had hoped. I think everybody has the goal for him to get back for October. We'll just continue to see how he progresses."
Mark Bowman is a reporter for MLB.com. This story was not subject to the approval of Major League Baseball or its clubs.