Marlins looking to secure momentum in games
Marlins looking to secure momentum in games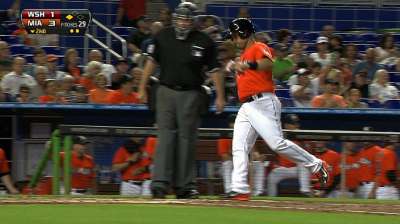 MIAMI -- At a time the Marlins are starting to score some runs, they're being victimized by allowing them right back.
Perhaps it is a sign of fatigue in the final month of the season. Or perhaps it is a lack of focus. Clearly, it is a lapse in executing pitches. But the Marlins saw it in losing two of three to the Nationals over the weekend after they took the series opener.
In Sunday's 6-4 loss, Miami saw a two-run lead disappear immediately after it was obtained. The Marlins went ahead 3-1, but a half inning later, the Nationals tied the score.
"We've had a tough time over the last couple of weeks with shutdown innings," manager Mike Redmond said. "We've scored some runs, and it seems like we're in a rut where we're giving up a run or a big hit or a couple of runs right back, and we lose that momentum."
Miami's pitching has been its strength all season. But in its first seven games of September, the team's ERA is 4.21, which ranks 15th in the Majors.
The Marlins even received a couple of breaks on Sunday when Stephen Strasburg committed two balks, which plated runs, in the same inning.
"We came out and scored some runs against a tough pitcher," Redmond said. "We just weren't able to lock it down and secure that lead. We gave the momentum right back. Against a good pitcher, you've got to take advantage of things. We know we've got to pitch and play almost perfect to win."
Joe Frisaro is a reporter for MLB.com. He writes a blog, called The Fish Pond. Follow him on Twitter Share This