Backed by five homers, Gio fires one-hitter at Mets
Backed by five homers, Gio fires one-hitter at Mets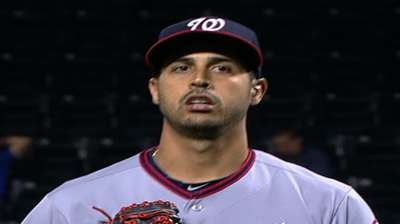 NEW YORK -- Left-hander Gio Gonzalez pitched a gem on Monday night, tossing a one-hitter as the Nationals pounded the Mets, 9-0, at Citi Field.
But if one looked at Gonzalez's face, it was obvious that he was disappointed that he didn't get the no-hitter.
Gonzalez held the Mets hitless for six innings, retiring 18 of the first 19 hitters he faced. The only person to reach base during the first six frames for the Mets was Daniel Murphy, who walked with one out in the first inning.
Catcher Wilson Ramos felt Gonzalez was looking like the player who first joined the Nationals last year.
"When I saw Gio for the first time, he was aggressive all the time. It's been a long time since Gio was aggressive on the mound like that," Ramos said. "So it was impressive to get him back. Hopefully, he will stay like that for the rest of the season and the next couple of years that he will be here."
But Zach Lutz broke up the no-hitter leading off the seventh when he singled past the diving Adam LaRoche at first base, with the ball landing right on the chalk. LaRoche was seen arguing with first-base umpire John Hirschbeck. LaRoche believed the ball was foul. LaRoche was then trying to think of something else to say. He wanted to tell Hirschbeck that he called time out, but he never did.
"When I got up and I started arguing, [Hirschbeck] was confident right away. He showed me the spot in the middle of the chalk, where it looked like it was a ball mark," LaRoche said. "He was confident about it. ... I thought it was close. Replays aren't great. ... It kind of ruins a great game, great offensive game, obviously [a well-pitched] game."
After allowing the hit, Gonzalez retired nine of the next 10 hitters, allowing a walk in the ninth. He finished with eight strikeouts and two walks.
"It's one of those things where you tip your cap and keep going," Gonzalez said. "You can get distracted from something like that and lose focus."
Manager Davey Johnson was impressed with what he saw from Gonzalez. It also helped that Gonzalez gave the bullpen a rest.
"What a job, a brilliant performance," Johnson said. "He had control all night long. He was getting all of his pitchers over."
It looked like Gonzalez was going to lose the no-hitter in the fifth inning. With one out, Juan Lagares hit a liner that shortstop Ian Desmond backhanded for the second out of the inning.
The Nationals gave Gonzalez plenty of run support, and all of it came via the long ball. They hit a total of five home runs in the game. The first two homers came in the first inning, when Denard Span and Ryan Zimmerman hit back-to-back blasts off right-hander Carlos Torres.
Two innings later, Washington added three more runs off Torres. Jayson Werth swung at the first pitch and hit a monster home run over the left-center-field fence to give the Nationals a 5-0 lead.
An inning later, Tyler Moore hit a long one that landed on the hitter's background in center field.
"It felt like almost everyone had a home run today," Gonzalez said. "It's a good feeling, it gives a pitcher confidence to go out there and pound the strike zone, especially when you know your team is swinging the bat pretty hard ... and giving you runs."
New York right-hander Greg Burke was on the mound when Washington took a nine-run lead, thanks to Ramos' three-run homer in the fifth inning.
"We didn't pitch. We gave up all those home runs and then having Gio on the mound pitching as well as he was, we didn't expect to have a very good game," Mets manager Terry Collins said. "Fortunately, we put a ball in play where no one was at, so we can go home at least knowing we didn't get no-hit."
With the victory, the Nationals are now seven games behind the Reds for the second and final National League Wild Card spot. The Cubs blanked the Reds, 2-0, at Great American Ball Park.
"We have to win. If we don't win, nothing is going to matter anyway," Zimmerman said. "We put ourselves in this position and it's not an ideal situation to be in. Nothing matters unless we win. So we have to go out every night and win. Hopefully, we can get some help. Hopefully, that will happen."
Bill Ladson is a reporter for MLB.com and writes an MLBlog, All Nats All the time. He also could be found on Twitter @WashinNats. This story was not subject to the approval of Major League Baseball or its clubs.