Mets held to one hit by Gio in loss to Nationals
Mets held to one hit by Gio in loss to Nationals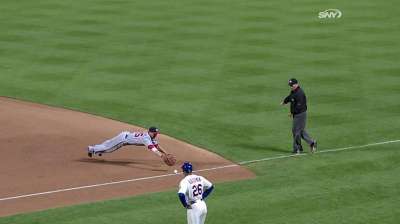 NEW YORK -- Limping into September without their captain, their best and most electric pitcher, their starting first baseman, their closer and more than half their rotation, the Mets hoped only to remain as competitive as possible down the stretch of another lost season. And they may still do so. But on Monday, they were positively thrashed by a team still clinging to faint playoff hopes.
Gio Gonzalez took a no-hitter into the seventh, and the Nationals bashed five home runs over the first five innings of a 9-0 beating of the Mets at Citi Field. With that, the Mets lost for the sixth time in eight games and the 12th time in 18 contests.
"It's tough when he's out there just dominating," said Zach Lutz, who tallied New York's only hit off Gonzalez. "You look up at the scoreboard and we're down nine runs. What can we do?"
After walking the second batter he faced, Daniel Murphy, Gonzalez buzzed through 17 in a row to take his no-hit bid into the seventh. Sitting on a first-pitch fastball off the outside corner, Lutz finally spoiled it with an opposite-field single down the first-base line, just beyond Adam LaRoche's outstretched glove.
"When pinch-hitting, the one thing you want to do is get a good pitch to swing at early in the count," Lutz said. "That's what I did. I hit it off the bat a little bit and it landed right on the line. That was some good luck right there."
His shot at history gone, Gonzalez nonetheless chugged onward, allowing no other hits in a complete-game victory.
"He got it off the end of the bat and he hit the line," Gonzalez said of Lutz's hit. "It's one of those things where you tip your cap and keep going. You can get distracted from something like that and lose focus."
Considering Washington's early offensive onslaught, Gonzalez's no-hit bid was the only source of drama after the third. The Nationals gave their pitcher a comfortable cushion when the game's first two batters, Denard Span and Ryan Zimmerman, hit back-to-back home runs off Mets starter Carlos Torres. Two innings later, Jayson Werth smashed a three-run homer, followed by Tyler Moore's solo shot in the fourth.
"They hit those mistakes that I left up," said Torres, who has given up 14 runs in nine innings against the Nationals this season. "Usually there's a team out there that somebody has problems with. They just have a different approach to me. I'm just going to go back over the film, see what I can see and then adjust from there."
By the fifth, Torres was out of the game, but the Nationals were not done hitting. The first man out of the bullpen, Greg Burke, walked two batters with two outs before serving up Wilson Ramos' three-run homer.
The result was the Mets' most lopsided loss since a 14-1 beating in Washington on July 28. Before that, their worst defeat had been the 13-2 drubbing the Nationals handed them on June 30. Of the Mets' four most lopsided losses this year, three have come against Washington.
It was a miserable night for the Mets, and yet if more blowout losses are to come in September, the reason why is clear. The Mets are currently playing without third baseman David Wright, first baseman Ike Davis, closer Bobby Parnell, and starters Matt Harvey, Jeremy Hefner and Jenrry Mejia. They further weakened their lineup in the sixth inning Monday, removing Murphy from the game due to the blowout score.
Afterward, manager Terry Collins said he considered his team lucky not to be no-hit against Gonzalez, who improved to 10-6 with a 3.31 ERA. Collins noted that the Mets hit just one ball hard all night, when Juan Lagares lined out to shortstop in the fifth.
But Collins also knows the Mets have 20 games remaining this season. Despite his team's depleted ranks, those games do not all have to be so hopeless.
"We gave up all those home runs, and then having Gio on the mound pitching as well as he was, we didn't expect to have a very good game," Collins said. "Fortunately, we put a ball in play where no one was at, so we can go home at least knowing we didn't get no-hit."
Anthony DiComo is a reporter for MLB.com. Follow him on Twitter @AnthonyDicomo. This story was not subject to the approval of Major League Baseball or its clubs.