Arroyo's efforts not enough in loss to Cubs
Arroyo's efforts not enough in loss to Cubs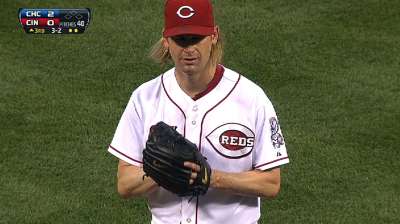 CINCINNATI -- Following his team's crucial series wins under pressure conditions against the contending Cardinals and Dodgers, manager Dusty Baker was asked Monday afternoon if a letdown needed to be prevented against the last-place Cubs.
"I don't believe in letdowns. I believe in let ups," Baker replied. "That's what happens, you kind of let up. That was an exciting week. I just make sure to tell the guys they make sure they play at our level and not at whoever we're playing's level. … We have to stay after it."
The Reds may have done a nice job lately of beating the good teams, but they have equally confounded by not taking care of the teams they're supposed to bury. In the last month, there have also been series losses to the Rockies and twice to the Brewers.
And now they've dropped the series opener to the last place team in the National League Central. Part of the credit for that goes to ex-Red Travis Wood, who had a strong night as it took only a pair of solo home runs against Bronson Arroyo for the Reds to be handed a 2-0 loss by the Cubs and snap a four-game winning streak.
"We had a great run against the Dodgers and the Cardinals. It would have been nice to continue it tonight," Arroyo said. "But that's what good pitching does."
Meanwhile, the Reds fell to two games behind the idle Cardinals for first place in the NL Central. The second-place Pirates, who entered just .001 percentage points ahead of Cincinnati, snapped their four-game losing streak with a 1-0 win in Texas, and are back to one game ahead of the Reds for the first Wild Card spot.
Arroyo's 1-1 hanging changeup to Ryan Sweeney in the second inning was lifted to the right-field seats to give the Cubs a 1-0 lead. During the Chicago third, Luis Valbuena launched a 1-1 offering to right field for a home run. The two home runs were the only runs Arroyo (13-11) allowed in seven innings, with seven hits, no walks and six strikeouts. He has given up just one walk in his last 47 innings.
"When you don't feel like you pitched that bad and the other guy on the other side just goes out and does his job a little better than you, there's not as much frustration there," said Arroyo, who retired 14 of the last 16 batters he faced after the second homer. "Give kudos to the other side."
Wood may have dealt seven innings of zeros, but the Reds still had multiple opportunities to make something happen. They were 0-for-10 with runners in scoring position and left nine runners on base.
"They talk about getting runners on base and stuff like that, but you've got to score them," Baker said after the game. "Our guys were trying their hearts out. It just didn't happen."
In the first inning, following back-to-back one-out singles by Brandon Phillips and Joey Votto, Wood struck out Jay Bruce and got Todd Frazier to ground out to third base.
The third inning saw Shin-Soo Choo break a club record by getting hit by a pitch for the 25th time this season, as he was plunked on the back with one out. But after a two-out single by Votto, both runners were stranded when Bruce lined out.
Choo's one-out double to left field came in the fifth inning, but that spark was snuffed out as Phillips and Votto both looked at called strike threes.
"Woody can pitch," Baker said. "You just hate to see strikeouts in that situation, especially looking. That means you don't have a chance. But he made some quality pitches all night. He wasn't throwing as hard as he usually does, but he was locating the ball well. We just didn't score."
Each of the last four hits the Reds had in the game were doubles. With one out in the ninth against Cubs closer Kevin Gregg, Zack Cozart notched his second double with a shot through the gap in right-center field. His fourth-inning double extended his career-high hitting streak to 14 games.
Gregg escaped by getting Ryan Hanigan to line out and pinch-hitter Xavier Paul to ground out to second base. This was only the Cubs' third win over the Reds in the teams' last 15 games against each other. Wood is only 9-11 on the season but has quality outings in 22 of his 29 starts and a 3.05 ERA.
"It's the first time I've ever beat them since being traded," said Wood, who was dealt to Chicago in December 2011, in a trade that brought reliever Sean Marshall to Cincinnati. "I've played some good games against them and they've gotten me a few times too, so this one was nice."
Mark Sheldon is a reporter for MLB.com. Read his blog, Mark My Word, and follow him on Twitter @m_sheldon. This story was not subject to the approval of Major League Baseball or its clubs.