After first start, Baker ready to go again
After first start, Baker ready to go again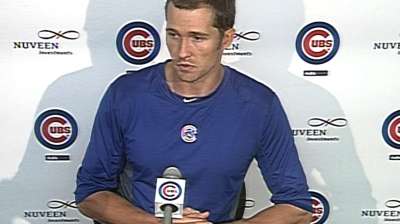 CINCINNATI -- One day after making his first Major League appearance in more than two years, Scott Baker experienced the typical soreness that comes along with being a starting pitcher. And with no other issues to report, Cubs manager Dale Sveum has a little bit better idea of what the immediate future holds for Baker.
"He's definitely going to start again," Sveum said. "We were kind of just recently figuring it out, and tomorrow we'll probably have a better idea. But he'll definitely start in probably the next five, six days."
As of Monday, the Cubs had their upcoming probable pitchers listed through the end of the series in Cincinnati, and it's likely Chris Rusin and Jake Arrieta will make their scheduled starts in Pittsburgh on Thursday and Friday. That leaves Saturday's game against the Pirates open as a potential second start for Baker, especially after Sveum said on Sunday that the Cubs could go with a six-man rotation.
In his first big league start since undergoing Tommy John surgery on April 17, 2012, Baker held the Brewers scoreless and allowed just two hits and a walk in five innings with one strikeout. Working on a 75-pitch limit, Baker used only 55 pitches -- 39 for strikes -- before his day was done with his spot in the order due up in the fifth.
"He did a great job," Sveum said. "Obviously pitched efficient, too. He didn't throw that many pitches. It all worked out really well."
Beyond Baker's role with the team this season, what the Cubs decided to do with the 31-year-old right-hander in the offseason is an even bigger question. Before the 2013 season, Baker inked a one-year deal with the Cubs worth $5.5 million, making him a free agent after this season.
"Those decisions are obviously up to [executive vice president and general manager Jed Hoyer] and [president of baseball operations Theo Epstein]," Sveum said. "We've evaluated some more, things that went well. When you go to the winter, obviously starting pitching is always a priority and depth and everything like that. We'll just have to wait and see what happens."
Jeremy Warnemuende is a reporter for MLB.com. This story was not subject to the approval of Major League Baseball or its clubs.