Dyson wants to be Royals' main running man
Dyson wants to be Royals' main running man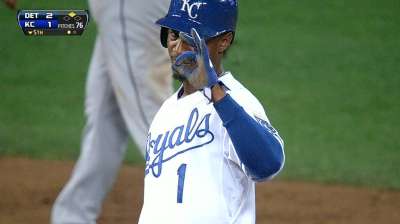 CLEVELAND -- Royals outfielder Jarrod Dyson has been burning up the basepaths all season long, and he has no intention of putting the brakes on with the regular season winding down.
Dyson recorded his 30th steal of the season in Saturday's 4-3 win over the Tigers. Last year, Dyson finished with exactly 30 steals across 102 games. This year, he reached that figure in just 72 games.
"It's big, but I'm shooting for higher than 30," Dyson said. "Thirty is just like a decent job for me on the bases. It's pretty good, because I don't have that many ABs, to be sitting at 30 right now. I'm just going to continue to take off and run."
Dyson, 29, hopes to get at least 40 steals. He is the first Royals runner to swipe 30 bags in consecutive years since Carlos Beltran (2001-03).
On Monday night, Dyson batted eighth and played center field in the series opener against the Indians. In 73 games this season, he owns a slash line of .263/.321/.374 with eight doubles, three triples and two homers. He also has 30 runs scored and 16 RBIs. He's been thrown out trying to steal just five times.
Royals skipper Ned Yost appreciates the speed of Dyson, who has started in center field in 15 of the last 16 games.
"It's been important for us ever since he's gotten here, because he's been a weapon for us in any role that we have him in," Yost said. "Now, he's playing every day. He's been a guy that always makes the opposing defense nervous, makes the opposing pitcher nervous with his speed."
Before, Yost would keep Dyson on the bench until the late innings, when he'd come into the game as a pinch-runner. But as Dyson's abilities have continued to improve, Yost has played him more.
"He's continuing to grow," Yost said. "For a speed guy, you have to learn how to keep the ball on the ground. You've got to learn how to take pitches. You've got to learn how to take walks. You can't be afraid of hitting with two strikes. You get into a 2-0 count, you're taking a strike. If it's 3-0, you're taking a strike and then you're taking another strike.
"It's hard to learn that as a speed-type player, but he's really starting to develop into that type of player, a guy that realizes that he has something that nobody else has."
Dyson leads the Royals in stolen bases, and the club leads the Majors with 133. Kansas City has been successful on 83.1 percent of steal attempts, which trails only Boston's 85.4 percent.
Yost credited the way his team runs the bases as one of the reasons for its success. At 75-68, the Royals entered Monday night just 3 1/2 games out of the second American League Wild Card spot. The big picture is what's most important to Dyson.
"I couldn't care less about the bags," Dyson said. "I want to be in the playoffs."
Mark Emery is an associate reporter for MLB.com. This story was not subject to the approval of Major League Baseball or its clubs.