Ubaldo's 10 K's help Indians gain in WC hunt
Ubaldo's 10 K's help Indians gain in WC hunt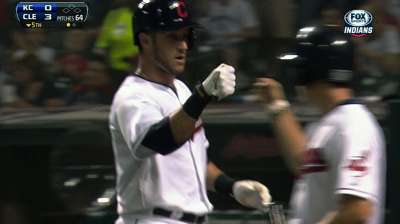 CLEVELAND -- Indians fans are not alone in their torment when it comes to late drama with the game on the line. In the ninth inning on Monday night, manager Terry Francona watched from the dugout as closer Chris Perez loaded the bases with two outs against the Royals.
Francona was blunt about what he thought of the situation.
"I actually had a stomach ache," Francona said.
Relief came when Perez induced a game-ending flyout to center field off the bat of Alex Gordon, sealing a 4-3 Indians win and allowing the Progressive Field crowd to exhale. Welcome to meaningful September baseball, Cleveland. The stakes are high and the heros are many -- at least that has been the case this year for this surprising Tribe squad.
Ubaldo Jimenez, who led baseball with 17 losses a year ago, turned in another overpowering outing, emerging as the kind of rotation leader the Indians envisioned over the past two turbulent years. Catcher Yan Gomes, an unknown acquired in a quiet trade with Toronto over the offseason, threw out two baserunners, blocked a run at the plate and crushed one of the Tribe's three home runs.
And then there was rookie Jose Ramirez, who was summoned from Double-A Akron as part of September callups, using his legs to create an improbable run in the third inning.
"We're going to need it," said Francona, referring to the contributions from a variety of sources. "We're not the team that's going to bash you to death, but you show up and try to be one run better. Tonight, I feel like maybe we were like a tenth of a run better, but it was good enough."
With the win, the Indians now sit 1 1/2 games behind the Tampa Bay Rays for the American League's second Wild Card spot.
"That's everything a player wishes for," Jimenez said. "That's what you play for, to be in the postseason or at least be playing to get there. It's really fun. Every game means something. It's like you come to the stadium and you know that everything counts. You have to give it all."
That is especially true for this series against Kansas City, which sits 2 1/2 games behind Cleveland in both the AL Central and Wild Card standings. The Indians, Royals, Orioles and Yankees represent the four teams currently trying to chase down the Rangers and Rays for the Wild Card spots. For the Tribe, Kansas City represents the only team with a winning record left on its schedule.
This is a chance for the Indians (77-66) to widen the gap for the Royals.
"Everybody knows what's going on here," Francona said. "It's a lot of fun to be a part of. It's nerve-wracking and it's a lot of things, but it's a lot of fun to be a part of."
Squaring off against Royals right-hander Ervin Santana, Jimenez (11-9) set the tone with seven stellar innings, in which he surrendered just one unearned run. The lanky right-hander piled up 10 strikeouts and finished with no walks, marking the second time in his past four starts that he has avoided a free pass during a double-digit strikeout performance.
Jimenez was in the midst of a season-ending collapse at this point a year ago, but he has settled in and found another level this month. Over his past nine starts, dating to July 22, the righty has fashioned a 1.94 ERA across 55 2/3 innings. Jimenez has a 1.71 ERA with 42 strikeouts and 10 walks in 31 2/3 innings over his last five turns.
"He was really tough, man," Royals manager Ned Yost said. "Really tough."
Jimenez is gaining confidence, too.
"I've been feeling pretty good," Jimenez said. "Pretty much, I get ahead, stay ahead and get people out. That's what I've been doing. It's been really nice."
Jimenez received three runs of support courtesy of home runs. Carlos Santana, Asdrubal Cabrera and Gomes each launched solo shots against Kansas City's Santana in his seven innings. Carlos Santana's towering shot down the right-field line in the seventh was initially deemed a foul ball, but a replay review reversed the call and pushed the Tribe in front, 4-1.
"I saw it as I was running up the line," Carlos Santana said. "I know the umpires had a hard time seeing it, but when they went to look at the replay I knew it was a home run."
For all the power, though, there was perhaps no moment more memorable than what Ramirez pulled off.
Ramirez led off the third inning by lacing a pitch from Santana into left-center field for a base hit -- the first of the 20-year-old infielder's big league career. Drew Stubbs followed by chopping a pitch to Royals third baseman Mike Moustakas, who reeled in the baseball and relayed it to first base for the out.
Ramirez never stopped running.
"I saw the third baseman was going to make the throw," Ramirez said through translator Luis Ortiz, Cleveland's lower Minor League hitting coordinator. "As soon as he let go of the ball, I was going to go. It feels really good that I helped the team out."
First baseman Eric Hosmer received the ball and rifled it back to third base wildly as Ramirez slid into the bag. The baseball skipped into left field, Ramirez scrambled to his feet and finished the run home to give Cleveland's offense a jolt.
"He was all over the ballpark tonight," Francona said. "You could see he just played with pure passion and joy."
Each contribution loomed large, considering Kansas City's late push against Cleveland's bullpen. Gordon belted a two-run home run off reliever Cody Allen in the eighth and came up with the bases loaded against Perez in the ninth. The closer went on to collect his 23rd save, easing the tension that was overtaking the ballpark.
"I prayed a little bit," Jimenez said with a smile. "That was huge."
Jordan Bastian is a reporter for MLB.com. Read his blog, Major League Bastian, and follow him on Twitter @MLBastian. This story was not subject to the approval of Major League Baseball or its clubs.