Wood earns first victory over former team
Wood earns first victory over former team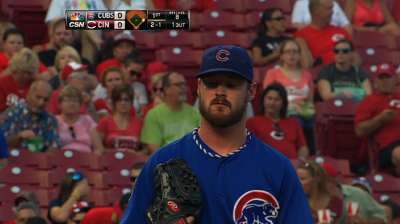 CINCINNATI -- Before Monday night's series opener against the Reds, Cubs starter Travis Wood had tried six times to beat his former team and failed. In his seventh attempt, he made sure to leave little up to chance, delivering seven scoreless innings en route to Chicago's 2-0 win at Great American Ball Park.
"It's the first time I've ever beat them since being traded, so it's really nice," said Wood, who came to Chicago from the Queen City in December 2011. "I've played some good games against them and they've gotten me a few times, too, so this one was nice."
In his four previous starts against the Reds this season, Wood was 0-3 with a 3.67 ERA. He surrendered just two runs in three of those starts, and allowed five earned in the other. Wood also saw the Reds twice last season, giving up one run in a no-decision before being tagged for seven runs in a 9-4 loss.
But on Monday, Wood delivered his best performance against the club that selected him in the second round of the 2005 First-Year Player Draft.
In his seven innings, the 26-year-old lefty allowed just six hits while striking out seven. He threw 70 of his 100 pitches for strikes and didn't walk a batter -- though he hit one in the third -- in a thoroughly impressive performance.
"Almost every outing it seems you could say that [it's impressive] for the most part this year," Cubs manager Dale Sveum said. "Tonight was obviously one of his better ones against one of the better lineups of right-handed hitters, as well as their lefties that hit lefties well."
The Reds entered the series having swept the Dodgers and taken three of four from the National League Central-leading Cardinals. Cincinnati hadn't been shut out since Aug. 17 in Milwaukee, and Sunday marked the first time the Cubs held the Reds scoreless in 86 games between the two teams, dating back to 2008.
"It was a good one tonight," Wood said. "I had command of pretty much all my pitches, getting some quick outs and keeping them off balance. They did string a few hits together, but I was able to keep runs off the board."
Wood allowed a pair of singles in the first inning and gave up another in the third, when he also hit Shin-Soo Choo. He surrendered doubles in the fourth, fifth and sixth innings, but none of the Reds' threats led to runs.
After Choo's double in the fifth, Wood struck out All-Stars Brandon Phillips and Joey Votto looking in consecutive at-bats, indicating the type of night it was for the Cubs starter.
"Woody can pitch," Reds manager Dusty Baker said. "You just hate to see strikeouts in that situation, especially looking. That means you don't have a chance. But he made some quality pitches all night. He wasn't throwing as hard as he usually does, but he was locating the ball well. We just didn't score."
Meanwhile, the Cubs scored just enough to give Wood the win -- his ninth of the season -- thanks to a pair of solo home runs off Reds starter Bronson Arroyo.
Center fielder Ryan Sweeney opened the scoring with one out in the second, sending a 1-1 changeup into the seats in right field for his sixth home run of the year. An inning later, third baseman Luis Valbuena also hit a solo blast to right, this one coming on a 1-1 sinker, for his 11th of the season.
Arroyo entered having given up just eight hits and three runs in his two starts (13 innings) against the Cubs this season, both of which resulted in Reds wins. In seven innings on Monday, Chicago collected seven hits from six different players against the 36-year-old righty.
With Wood's day done, Pedro Strop came on for the Cubs in the eighth and, despite surrendering a walk to Phillips to open the inning, the right-hander forced two lineouts and a strikeout to end the frame. In the ninth, Kevin Gregg worked around Cincinnati's fourth double for his 31st save of the season.
The win snapped a brief two-game losing streak for the Cubs, who had lost three straight to the Reds before Monday's game. Cincinnati entered the three-game set winning 13 of the first 16 games in the season series, including four of six at home, but none of that mattered thanks to the timely home runs, and especially thanks to Wood.
Following the game, Sveum praised Wood for being a consistent force the entire season. He continued that on Monday, and Sveum said that without a doubt, Wood is the Cubs' No. 1 starter.
"I think every pitcher tries to pitch like that even if they don't have the stuff that's technically ace stuff," Wood said when told of Sveum's high praise. "They always try to go out there and give them everything they got. I appreciate it, but I just got to keep it rolling."
Jeremy Warnemuende is a reporter for MLB.com. This story was not subject to the approval of Major League Baseball or its clubs.