Royals slip vs. Tribe to fall back in WC race
Royals slip vs. Tribe to fall back in WC race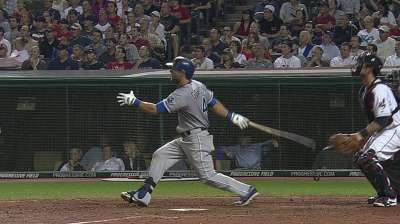 CLEVELAND -- With both the Royals and Indians battling for a playoff spot, Monday night's matchup was just as tense and close of a contest between contenders should be.
Unfortunately for the Royals, the first of the six meetings against their American League Central rivals over the next two weeks did not go their way in a 4-3 loss at Progressive Field.
After starter Ervin Santana served up three home runs, Kansas City fought back with Alex Gordon's two-run homer in the eighth to make it a one-run game and had loaded the bases in the ninth. But the comeback bid stalled, as Indians closer Chris Perez got Gordon on a flyout for his 23rd save.
"We had our opportunities," Gordon said. "Obviously, coming down the stretch, we need victories. This is a tough one, and especially against a team that's in it, too."
Kansas City (75-69) dropped to four games behind Tampa Bay for the second AL Wild Card spot, while Cleveland (77-66) now sits just 1 1/2 behind the Rays.
Trailing by three in the eighth, Gordon clubbed his 18th homer of the season and 100th of his career off reliever Cody Allen.
In the ninth, the Royals had runners at second and third with one out, but Perez struck out pinch-hitter Carlos Pena on a 3-2 count for the second out. After walking pinch-hitter George Kottaras in a 10-pitch at-bat to load the bases, Perez retired Gordon to end the game.
"I liked the matchups," Royals manager Ned Yost said. "It increased our matchups with Pena, Kottaras and Alex right there. [We] couldn't get it done."
All three of the home runs allowed by Santana were solo shots to right field. Asdrubal Cabrera, Yan Gomes and Carlos Santana were the Indians who circled the bases. Carlos Santana's jack needed a replay review, after his shot off the pole was originally ruled foul.
"Only one bad pitch," Ervin Santana said. It was [the one to] Cabrera. Middle of the plate. And the others were good pitches."
The Royals got on the board in the sixth inning. Gordon hit a soft grounder to third that was fielded by a charging Jose Ramirez, who unleashed an errant throw to first base. That allowed Gordon to move to second, and he came home on Eric Hosmer's single to right.
Ramirez tormented Kansas City on the bases in the third after a leadoff single against Ervin Santana for his first Major League hit. The pitcher repeatedly checked on him during an at-bat by Drew Stubbs, who worked a 3-2 count.
Ramirez took off just before Stubbs hit a grounder to third baseman Mike Moustakas, and when Moustakas threw the ball to first, Ramirez bolted from second and eventually came around to score, as Hosmer's throw across the diamond skittered past Moustakas and ricocheted into left field.
"That was huge," Indians manager Terry Francona said. "That second run came on a grounder to third, because of his hustle. It kind of gave everybody a spark."
Afterward, Yost was asked how disruptive Ramirez was in that inning. He thought a better word to use was "aggressive."
"We made a bad throw. Speed creates those types of situations for the team," Yost said. "[He] made us make a play. Hos hurried and bounced it over there."
Across seven innings, Santana (8-9) was charged with four hits and four runs, three of which were earned. He recorded seven strikeouts without issuing a walk.
Jarrod Dyson, who has often tortured opposing defenses himself with speed, had two hits but was erased on the basepaths after each one. The third inning began with his ground-rule double to right-center. After a bunt from Escobar moved him to third base, he tried to score on a hard grounder from Gordon but was thrown out at home by Nick Swisher. In the fifth, Dyson hit a two-out single and was caught trying to steal second by Gomes, who also threw out Lorenzo Cain on an attempt.
"With Dyson's speed," Yost said about the play at the plate, "you can go on contact because the odds of him beating it out are really, really in your favor. [Gordon] just hit it too hard to the first baseman. ... In that situation, with the [middle of the] infield playing back, [he's] got to try to keep it up the middle."
Said Francona: "It had to be a clean play and it was."
In seven innings, Jimenez (11-9) scattered seven hits and gave up just one unearned run. He also did not issue a walk, while notching 10 strikeouts for the third time in four outings.
"He was really good," Francona said. "That's a good lineup. They do so many things. They can hit the ball out of the ballpark. They can all run."
Monday's defeat gave the Royals a 5-9 record in the season series. They've dropped four straight to the Indians, each loss at Progressive Field.
"It was a tough loss," Yost said. "We had some opportunities to pick up some runs, but this isn't a time to feel snakebitten."
Mark Emery is an associate reporter for MLB.com. This story was not subject to the approval of Major League Baseball or its clubs.