Veteran Giambi no stranger to milestone hits
Veteran Giambi no stranger to milestone hits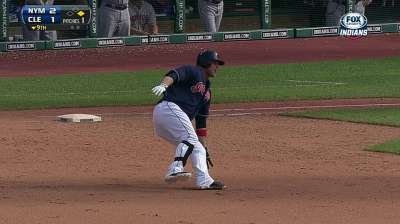 CLEVELAND -- Jason Giambi was in the mood to reminisce on Monday afternoon. One day after collecting the 2,000th hit of his career, the veteran slugger sat at his locker inside the Indians' clubhouse and reflected on milestones throughout his career.
Giambi's first hit was a single off Texas' Roger Pavlik on May 8, 1995. His first home run came on July 8 that season off Toronto's David Cone. On Sept. 21, 2008, Giambi singled in the seventh inning against the Orioles, marking the final hit in the long storied history of old Yankee Stadium. This season, the 42-year-old became the oldest player in MLB history to belt a walk-off home run with a shot against the White Sox on July 29.
It has been a long road, but Giambi hopes to keep on traveling next year.
"For sure, yeah. Hopefully here, too," Giambi said. "I love it here. I love the direction we're going and the things we've got going on. I definitely love it here. I feel great. I feel good."
Giambi said he did not envision that he would still be in the Major Leagues after 19 seasons, or that a 20th campaign might be in the cards. After his contract with the Yankees ran out in 2008, he joined the A's knowing that he might be playing on a year-to-year basis.
Giambi struggled in '09 with Oakland, which originally took him in the second round of the 1992 First-Year Player Draft, and was released by August that season at his request. He latched on with the Rockies, found a niche as a pinch-hitter and part-time player, and has continued to fill that roll, along with veteran leadership, this year with the Tribe.
"People were like, 'This could be your last year,'" Giambi said of his '09 season. "And then one year turned into another, and then another, and then another, and here I am."
In the ninth inning of Sunday's 2-1 loss to the Mets, Giambi sliced a pitch from LaTroy Hawkins into shallow left field for a single, giving the former slugger 2,000 hits. Giambi became the 14th Major Leaguer since 1916 to achieve at least 400 homers, 1,300 walks, 1,400 RBIs, 2,000 hits and a .400 on-base percentage.
"I love it," Giambi said of his season with the Indians. "My body is holding up. It's good."
Jordan Bastian is a reporter for MLB.com. Read his blog, Major League Bastian, and follow him on Twitter @MLBastian. This story was not subject to the approval of Major League Baseball or its clubs.