Scherzer's quest for No. 20 denied by White Sox
Scherzer's quest for No. 20 denied by White Sox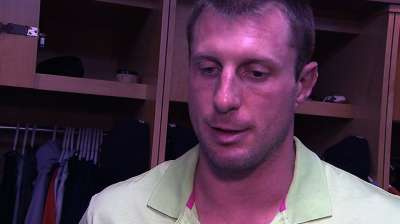 CHICAGO -- The first-inning exit from Miguel Cabrera, three pitches into his at-bat after disputing a checked swing with plate umpire Brian Gorman, wasn't a good sign for the Tigers' evening in the Windy City.
"We're in the race," Cabrera said afterward. "You don't want to get thrown out of the game."
The two White Sox runs in the bottom half off Max Scherzer, who had given up just seven first-inning runs all season, probably suggested worse.
"I made too many mistakes," Scherzer said. "I left the ball up, elevated the ball. I wasn't able to get the ball down and it cost me."
By the time Scherzer left the mound after four innings, flummoxed by an infield single from No. 9 hitter Josh Phegley that turned into a two-run play and a five-run lead on Scherzer's throwing error, the feeling was unmistakable. The question now is whether the Tigers' current struggles, including Monday's 5-1 loss, are a sign of a bigger late-season concern.
Around the same time lefty Jose Alvarez replaced Scherzer for the bottom of the fifth inning, Scherzer's earliest exit in a start this season, Indians closer Chris Perez stranded the bases loaded in the ninth inning in Cleveland against the Royals to finish off a 4-3 Tribe win.
The two results moved the Indians to within 4 1/2 games of the Tigers in the American League Central. The gap in the division hasn't been this small since Aug. 5, just as the Tigers were beginning a four-game sweep in Cleveland to take command of the race and move 23 games over .500.
They're now 14-17 since that series, having lost five of their last six on this three-city road trip. The Indians, meanwhile, have won five of their last six, cutting four games off the Tigers' division lead in just over a week.
Four of Detroit's losses have come against left-handed starters, whom they have struggled to hit off and on throughout the year. Chris Sale has given them troubles for most of the year and continued that Monday.
If there was concern about Cleveland on the Tigers' part, they weren't showing it. The concern about their own game right now is obvious.
"I'm not concerned about Cleveland. I'm concerned about the Tigers," manager Jim Leyland said. "I don't worry about the other team. We've got to take care of our own business. If we do that, we'll be fine. If we don't, we won't win. It's pretty simple."
Scherzer isn't overly concerned.
"Right now, we're not quite playing our best baseball," he said, "but that can change in a heartbeat. We can come out tomorrow and play and get on a streak. There's too much talent in this clubhouse to really get frustrated with how we've been playing."
Two of those Tigers losses have been in starts from Scherzer, whose 19-1 record, 2.73 ERA and consistent quality starts had made him nearly impossible to beat a couple weeks ago. The Red Sox finally beat him Tuesday in Boston only because Jon Lester outdueled him in a 2-1 game.
This was different. Scherzer never gave up a crushing hit; only one of Chicago's six hits off him went for extra bases, and he struck out six over his four innings. However, he never quite looked comfortable with his command, even as he cruised through the third inning and into the fourth.
He nearly worked his way out of his opening-inning jam, retiring Alexei Ramirez and Adam Dunn with two men on, but Paul Konerko lined a 2-2 pitch into shallow center field for a two-run single as Austin Jackson and Torii Hunter struggled to collect the ball.
"Give Konerko credit in the first for battling me," Scherzer said. "He had a good AB against me. I threw him three quality sliders, and the third one was a really good pitch that he fouled off. That's why he's always put up good ABs against me. That was my pitcher's pitch that he fouled off.
"I tried to go with a fastball down and away and I left it up over the middle of the plate. He's too good of a hitter to make a mistake like that to in that situation."
The three-run fourth-inning rally that doomed Scherzer (19-3) came entirely with two outs, starting with Conor Gillaspie's double before continuing with consecutive singles from Dayan Viciedo, Jordan Danks and Phegley, the bottom third of the White Sox order.
"With Viciedo, it was just kind of a hanging slider," Scherzer said. "He seemed like he was a little fooled too, and he just was able to get barrel to it and shoot it down the line. And then Danks had a good AB against me, and he hit a fastball. And then Phegley, swinging-bunt slider, it was a do-or-die play for me at that point in time. I just picked it up and threw it. Obviously, it wasn't the best throw."
The throw went into right field, adding on an unearned run.
That was too much for the Tigers to overcome against Sale (11-12), who blanked them for six innings until Victor Martinez homered in the seventh. Sale struck out eight Tigers over as many innings for his third win in four starts against Detroit this season.
Losing Cabrera arguing a checked swing in the opening inning, he admitted, gave him some comfort.
"The best hitter to ever walk the planet leaving after the first," Sale said. "It doesn't get any easier after that. You still have to make pitches and stuff because they have a heck of a lineup up and down. Just try to stay on the game plan and get through it."
Jason Beck is a reporter for MLB.com. Read Beck's Blog and follow him on Twitter @beckjason. This story was not subject to the approval of Major League Baseball or its clubs.