O's gain in Wild Card race as Tillman tops Yankees
O's gain in Wild Card race as Tillman tops Yankees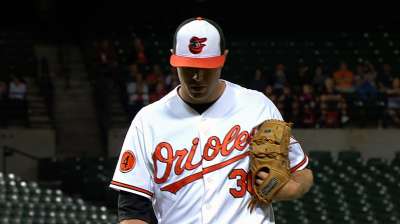 BALTIMORE -- With 20 games to go, all against the American League East, Orioles manager Buck Showalter remarked on Monday afternoon that his approach at this pivotal stage wasn't day to day so much as it was hour to hour.
And what an entertaining and high-octane 2 1/2 hours Monday night proved to be. In a contest that started with Showalter storming out of the home dugout -- restrained by the umpiring crew -- in angry pursuit of Yankees manager Joe Girardi, the Orioles capped a drama-filled contest with a series-opening 4-2 win over their division rivals.
"I didn't think it was going to start this early," Orioles right fielder Nick Markakis said slyly of the heated matchup, which puts Baltimore (77-66) 1 1/2 games in front of New York in the AL Wild Card race and 1 1/2 games back of idle Tampa Bay for the second Wild Card spot. "You've got two teams battling for the same thing, it's just like any little thing's going to set it off."
The victory -- the Orioles' fourth in five games-- was underscored by the managers' early altercation over Girardi's accusation that third-base coach Bobby Dickerson was stealing signs, an argument Showalter took exception to and which briefly caused both benches to clear. But the limelight belonged to Orioles starter Chris Tillman, who fired seven-plus fantastic innings and tied a career high with nine strikeouts in becoming the first O's pitcher since Mike Mussina in 1999 to reach the 16-win mark.
"I'd rather have the focus be on Chris Tillman, some of the things we did on the field," Showalter said after the first 10 minutes of his postgame press conference was dominated by talk of his exchange with Girardi. "I know how drama usually plays this time of the year. I'm just glad we're playing games that mean this much to everybody, including our fans."
"I don't get into theatrics or whatever. If I feel something, I'll express it. Simple as that. And Joe will, too. I don't get into the history or the protocol. I could give a you-know-what less. It strikes a chord in me and I stand accused. And so does Joe. We've got two good teams and we're competing for something very special with 19 or 20 games left, and nobody's going to apologize here for caring about giving both of our teams the best chance to win."
Tillman, coming off an uncharacteristically wild performance in Cleveland, allowed a pair of solo homers and held the Yankees to four hits in a 110-pitch start in which he didn't walk a batter. The 25-year-old righty, who has become the ace of the Orioles' staff, retired 14 consecutive batters before Lyle Overbay's leadoff shot in the eighth ended his night.
"[Tillman's] changeup was outstanding," said Girardi, who declined to discuss his argument with Showalter other than to say he was defending his players. "He also has a good curveball, but I thought his changeup was the equalizer tonight, and moving his fastball up and down as much as in and out."
Tillman credited catcher Matt Wieters with helping him get in sync in the later innings, and his win total in 29 starts this season now matches the four previous seasons combined.
"We had high hopes on him, and you're seeing it now," Markakis said of Tillman, acquired in the Orioles' haul from Seattle for starter Erik Bedard prior to the 2008 season. "Earlier in his career, he struggled with his command a little bit. His stuff has always been there, and he's figuring it out now. It's good for us."
Markakis backed Tillman's effort with some much-needed productive hitting, going 3-for-4 to help an erratic Orioles lineup finally string together some consistent at-bats. The Orioles' right fielder, who entered the game mired in the longest slump of his career, doubled and scored in the first off Yankees ace CC Sabathia and drove in a two-out run in fifth.
Tied at 1, the Orioles took the lead on Sabathia after shortstop J.J. Hardy doubled and hustled over to third base on Michael Morse's groundout to Alex Rodriguez. The hustle paid off as Hardy scored on Wieters' sacrifice fly and Alexi Casilla followed with a two-out single into left field, swiping second to put him in scoring position for Markakis.
The Orioles scored their first run off Sabathia on Adam Jones' sacrifice fly, marking just the fifth game all season the O's recorded more than one sac fly.
Showalter's outburst happened after that, with the manager coming out of the home dugout to yell at Girardi after the Yankees skipper jawed at Dickerson as he jogged off the field at the end of the inning.

"Somebody's wearing black and orange, I'm not going to let that happen," Showalter said of the accusations directed at Dickerson. "I know Bobby Dickerson pretty well, and so I knew Bobby might have something to say on his way back to the dugout. And he did."
Dickerson, a first-year coach on Showalter's staff, said the yelling from the visiting dugout started immediately when he got out there and it took him a few minutes to realize what was going on.
What were Girardi's words?
"'I know what you're doing'," Dickerson said. "Yelling it, body language, pointing at me. That's it. And I'm a grown man, that's all. I don't see why he was yelling at me. I just said, 'You don't know anything. You don't even know me to be yelling at me.'"
Both sides were warned, including Tillman, who said he wasn't sure exactly what was going on. Instead, the right-hander -- who was followed by outstanding innings from Tommy Hunter and closer Jim Johnson -- zeroed in on his job on the mound.
"They are all big this time of year," Tillman said. "And I take the approach every game I'm pitching. You only get to go out there once every fifth day. So, for me, they are all big."
"We're not done yet. We have a long way to go."
Brittany Ghiroli is a reporter for MLB.com. Read her blog, Britt's Bird Watch, and follow her on Twitter @britt_ghiroli. This story was not subject to the approval of Major League Baseball or its clubs.