Improving Cueto faces Reds hitters during BP
Improving Cueto faces Reds hitters during BP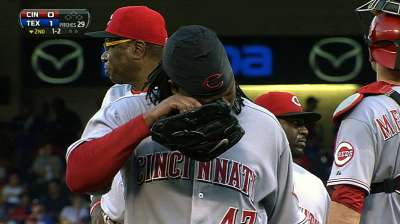 CINCINNATI -- For the first time since June 28, right-hander Johnny Cueto faced batters on Sunday at Great American Ball Park. The bad news for the Reds is that Cueto wasn't pitching in a game, as he threw about 30 pitches to teammates during batting practice.
The good news, though, is that Cueto is inching closer and closer to a return to the team.
"He looked very good," manager Dusty Baker said. "He was sharp for the amount of time he's been out. He had good command, good velocity and his pitches were pretty sharp. His mechanics are so sound that he's not going to be too far off."
On the disabled list for the third time this season with a right lat strain, Cueto was expected to throw a bullpen session on Saturday. Instead, his work was pushed back a day so he could pitch to batters on Sunday, including Xavier Paul, who mentioned that one of Cueto's cutters nearly broke his bat.
Along with Baker, head trainer Paul Lessard, pitching coach Bryan Price and Reds general manager Walt Jocketty were on hand to watch Cueto, who threw strictly out of the stretch. The next likely step, according to Baker, is for Cueto to throw another simulated game. When that occurs depends on how the Cincinnati ace comes out of Sunday's session.
"I was just happy he's throwing," Baker said.
Jeremy Warnemuende is an associate reporter for MLB.com. This story was not subject to the approval of Major League Baseball or its clubs.