Phillips slides back into cleanup role
Phillips slides back into cleanup role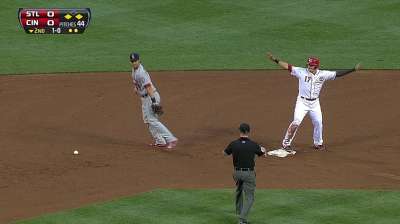 CINCINNATI -- As expected, Brandon Phillips was back in the Reds lineup on Sunday after getting a day off Saturday to rest his injured left quad. However, after nine games batting in the two-hole, Phillips was back at cleanup for the finale against the Dodgers, returning to the spot where he spent most of the season.
Manager Dusty Baker said part of the reason for the switch was that Phillips has been one of the only players on the team to experience much success against left-hander Clayton Kershaw. Entering Sunday, Phillips had gone 8-for-19 with a double and a walk against the Dodgers' ace.
That wasn't the only motivation for the switch, though.
"His role has changed back again to driving in runs vs. scoring runs," Baker said of Phillips. "He was driving in runs early. Then we talked about his on-base percentage, and since he went into the second spot he changed his approach and different things. I'd be curious to know what his on-base percentage was when he was batting second, just in that period of time."
The answer is .381, and although that's lower than Baker's guess of .400 or more, it's significantly higher than Phillips' .315 season on-base percentage before play began on Sunday. Phillips also collected six RBIs in his nine games batting second.
Left fielder Chris Heisey took over in the two-hole on Sunday, giving Phillips -- who this year became the only Reds second baseman other than Joe Morgan to drive in 100 or more runs in a season -- more of an opportunity to bring guys home.
As for Phillips' quad contusion, which he suffered on Thursday against the Cardinals, Baker said he didn't know if one day off would be enough to prevent it from being a lingering issue.
"I just told him to play smart because you don't have a week [to heal]," Baker said. "At this point in time, a week is one-third of the season that's left."
Jeremy Warnemuende is an associate reporter for MLB.com. This story was not subject to the approval of Major League Baseball or its clubs.