Pagan's 11th-inning hit gives Giants walk-off win
Pagan's 11th-inning hit gives Giants walk-off win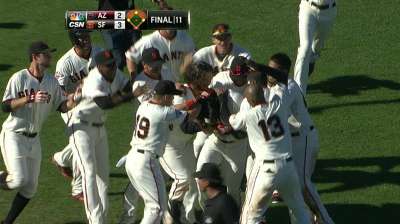 SAN FRANCISCO -- Angel Pagan was nowhere to be found Sunday in the Giants' clubhouse after their 3-2, 11-inning triumph over the Arizona Diamondbacks.
That didn't matter. He already had made his presence felt.
Pagan's tiebreaking single in the 11th gave the Giants their 10th walk-off win of the season and enabled them to split the four-game series with the D-backs. The Giants finished a respectable 12-7 this year against Arizona, which wrested the National League West lead from them in mid-May and maintained it until shortly after the All-Star break.
Though his ballclub remained on the brink of mathematical elimination from the West race, manager Bruce Bochy found significance in winning the series finale.
"It's a game that if it gets away from you, it's disheartening," Bochy said. "But if you win it, it's a sense of relief."
Facing left-hander Joe Thatcher with the score tied, 2-2, Hector Sanchez grounded a leadoff single through the infield's left side to christen the Giants' winning rally. D-backs catcher Miguel Montero pounced on Gregor Blanco's sacrifice-bunt attempt and threw across his body to second base, but pinch-runner Ehire Adrianza slid in safely as Blanco reached first.
Adrianza was forced to slide again. Pagan, who entered the game as a pinch-hitter in the ninth inning and stayed in to play center field, slapped Thatcher's 1-1 pitch to left. Adrianza, a September callup appearing in his first Major League game, scored easily.
"It was pretty exciting," said the 24-year-old Adrianza, a shortstop by trade. "I've been waiting for this moment since I was 3 years old."
The more experienced Giants took matters a little more in stride, though they definitely felt appreciative. This was Pagan's third walk-off hit of the year and his first since returning from left hamstring surgery that sidelined him for more than three months.
"Angel Pagan is the type of player who makes situations [happen] -- on the bases, running, hitting," Sanchez said. "He's really important for us."
Said left-hander Madison Bumgarner, referring to Pagan's wondrous 2012 season, "We love having him out there. He plays hard for us. You saw what he can do last year."
"He's a guy you love to have at the top of the order," said Buster Posey, who played first base Sunday to spare his fractured right ring finger from the rigors of catching. "... He's definitely a game-changer."
Other Giants had an impact on this decision, which dropped Arizona's extra-inning record to a still-impressive 16-6.
Bumgarner cruised through six innings, allowing four hits, walking none and striking out nine. He was removed prematurely to spare him from fatigue. Given the Giants' modest status in the NL West, they had no reason to overuse their prized left-hander.
"We've worked them pretty hard," Bochy said, referring not just to Bumgarner but also the entire starting corps. "Especially in September, that [six innings] was enough."
Said Bumgarner, whose previous six starts ended in Giants defeats, "You have to see both sides of it. It's understandable, but at the same time you want to stay out there. It's their job to look at the big picture; it's our job to worry about today. I guess that's the way to put it."
Sanchez was instrumental, singling home the Giants' first run in a two-run fourth inning besides setting up Pagan's big hit.
Before the game, Bochy discussed Sanchez's offensive potential, remarking that the 23-year-old switch-hitter could function in the fifth or sixth spots in the batting order if he played regularly -- which might be difficult to achieve as long as Posey's around.
In fact, Posey reaffirmed his influence by returning to the lineup after missing four games with the finger injury. He played the entire game at first base and went 2-for-5, doubling Tony Abreu to third base to set up Sanchez's fourth-inning RBI single, then scoring himself on a wild pitch.
The Giants received a break in the top of the 10th. Arizona had runners on first and second with two outs when Aaron Hill tapped a grounder to Posey, who played the ball off his chest but still had time to toss it to reliever George Kontos covering first base for the out. Hill was initially ruled safe, as Kontos appeared to step on the dirt instead of first base. But the call was reversed after the umpiring crew conferred briefly, resulting in an inning-ending out for the Giants and an ejection for D-backs manager Kirk Gibson.
Chris Haft is a reporter for MLB.com. This story was not subject to the approval of Major League Baseball or its clubs.