Dodgers' skid continues with another walk-off loss
Dodgers' skid continues with another walk-off loss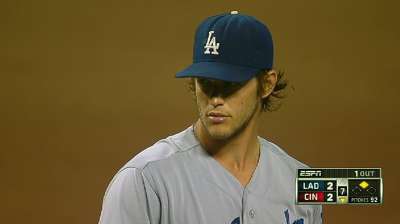 CINCINNATI -- Clayton Kershaw found the bright side.
"This is a good time for us to lose games if we're going to end up losing," the Los Angeles left-hander said Sunday night following a 3-2 loss at Cincinnati, the Dodgers' fourth consecutive loss and third straight by a one-run margin at Great American Ball Park. "Hopefully we can regain some momentum and carry it through the playoffs."
The Dodgers, despite their current skid, remain 11 games ahead of the second-place D-backs in the National League West. Arizona's 3-2 defeat at San Francisco dropped the Dodgers' magic number for clinching the division title to 10.
The Dodgers host the D-backs for three games beginning Monday.
Ryan Hanigan's RBI double in the bottom of the ninth inning gave Cincinnati a sweep of the three-game weekend series pitting potential October foes.
"Tonight was not one of those games I end up being irritated by because I don't feel like anybody was ready to play," Dodgers manager Don Mattingly said. "I wasn't that excited about our focus during the first two games, but tonight was a different feel. Our focus was good.
"I'm not tired, I'm not depressed, I'm not upbeat -- none of the above. We should go back a little bit humbled, but I was happy with how we played tonight."
Zack Cozart coaxed a single off Ronald Belisario (5-7) into left field with one out in the ninth. Hanigan followed by smashing a red-hot grounder down the left-field line. Carl Crawford retrieved the ball and fired to relay man Hanley Ramirez, but the shortstop's throw wasn't in time to get Cozart.
Reds closer Aroldis Chapman (4-5) retired three batters in the ninth with fastballs clocked at 102, 101 and 102 mph, striking out Ramirez and Juan Uribe.
Kershaw and Reds righty Homer Bailey both allowed two runs over seven innings. Bailey struck out nine to Kershaw's seven. The Dodgers ace allowed both of his runs on homers by Jay Bruce.
Kershaw came into Sunday's start with a big league best 1.89 ERA, while Bailey was unbeaten over his last seven starts.
Ramirez pulled the Dodgers into a 2-2 tie in the seventh by clubbing a leadoff home run off Bailey into the left-center-field seats, Ramirez's 17th homer of the season. Ramirez had also driven in the first Los Angeles run with a two-out double to the gap in left-center in the fourth inning.
Bruce had given his team 1-0 and 2-1 leads with his 28th and 29th home runs. Lefties were hitting .159 off Kershaw before Sunday, and Bruce's second-inning homer was the first given up by Kershaw since July 21 and the first he has given up to a left-handed hitter since June 15, 2012 (Adam Dunn ).
Dunn and Colorado's Carlos Gonzalez are the only other lefties to homer off Kershaw twice in a game.
"He's the best in the game," Bruce said of Kershaw. "I have a tremendous amount of respect for him, I've known him since high school.
Bruce led off the fourth with his second homer of the night, also to right field.
"I thought I could throw sliders to him, and I got a little stubborn the second time," Kershaw said. "[Bruce] is locked in right now. Learn your lesson."
Kershaw hopes the Dodgers learned some lessons during the weekend about what October might feel like. He also set a goal for the games that remain.
"I still want the best record in the NL," Kershaw said.
Andy Call is a contributor to MLB.com. This story was not subject to the approval of Major League Baseball or its clubs.