Cincy sweeps LA with another walk-off victory
Cincy sweeps LA with another walk-off victory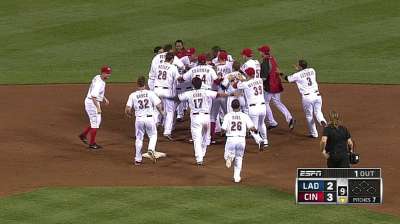 CINCINNATI -- Heading into Sunday night's series finale against the Dodgers, Reds catcher Ryan Hanigan and his teammates understood the challenge in front of them. Squaring off against Dodgers ace Clayton Kershaw and facing the best team in baseball since the All-Star break, they knew they were in for a battle if they hoped to complete the three-game sweep.
Hanigan wasn't surprised then when the game came down to the last at-bat, but he was ecstatic when his RBI double off reliever Ronald Belisario in the bottom of the ninth scored Zack Cozart from first and gave the Reds the 3-2 walk-off win at Great American Ball Park.
"It was one of those games," Hanigan said. "It kind of went the way we expected. A lot of quality pitching on both sides, low-scoring game. We had a couple opportunities and couldn't come through, but it was an awesome way to win. We're playing good ball right now."
That much is certain.
Hanigan's double gave the Reds their second walk-off win in as many days, and their third in the last six games. The victory finished off the sweep -- the first suffered by the Dodgers since May 17-19 against Atlanta -- and capped a week which Cincinnati started by taking three of four from NL Central-rival St. Louis.
"We know that they've got a good club," Dodgers manager Don Mattingly said. "They could win their division. It's the same type of pitching we would see [in the postseason]. You aren't expecting to score seven, eight or nine runs."
Thanks to Hanigan, a two-homer effort from right fielder Jay Bruce and a strong outing out of starting pitcher Homer Bailey, the Reds moved into a second-place tie with the Pirates, who were swept by the first-place Cardinals over the weekend. Cincinnati is at least tied for second for the first time since June 20 and faces just a 1 1/2-game deficit to St. Louis.
"We've just got to keep it going," Reds manager Dusty Baker said. "We're in second place now, hopefully headed toward first."
Before the ninth-inning heroics, the Reds and Dodgers spent the night trading punches, with Bruce delivering two of the biggest blows.
The 26-year-old slugger notched his 28th home run of the season in the second inning, hitting a 1-0 slider into the Dodgers' bullpen in right field. Two innings later, he drilled another 1-0 slider, this time to right-center field. Each home run gave the Reds a lead, as the Dodgers got their first hit and first run off Bailey in the fourth.
Sunday marked Bruce's second multihomer game of the year, and the 14th of his career. He also became the first left-hander to hit a home run off Kershaw this season, and just the third lefty to hit two off him in the same game, joining Carlos Gonzalez and Adam Dunn.
"He's a pitcher that, if he gives you a pitch to hit and you don't take advantage of it, you're probably out," said Bruce, who leads the Majors with 44 home runs off left-handers since 2010. "He gave me a couple of pitches I can handle tonight, and I was able to execute."
While Bruce paced the Reds at the plate, Bailey limited the Dodgers on the mound.
After breezing through the first inning on 13 pitches, Bailey had no trouble in the second and went on to strike out the side in the third. Carrying a perfect game into the fourth, the 27-year-old right-hander fanned the first two batters, giving him six strikeouts in a row.
That's when Adrian Gonzalez singled to center field, before scoring on a Hanley Ramirez double in the next at-bat.
After Ramirez was tagged out trying to stretch his two-bagger into a triple to end the fourth, Bailey worked around a single in the fifth and escaped the sixth unscathed despite allowing a Carl Crawford double and hitting Yasiel Puig with a pitch in consecutive at-bats.
Ramirez struck again, though, in the seventh, tying the game with a leadoff homer to left.
Hanigan said the hanging curveball that Ramirez hit out was the one mistake Bailey made all night.
"Every pitcher knows that feeling when the ball kind of comes out of your hand too early," Bailey said. "That was one for me. I was actually kind of hoping it would be way up because it came out so early. It just kind of came back to the top of the zone, and it was a good pitch to hit."
The seventh was Bailey's final inning, as he finished his outing allowing two runs on six hits to go with nine strikeouts, while throwing 70 of his 99 pitches for strikes.
Cincinnati's bullpen took over, with Zach Duke and J.J. Hoover combining to pitch a perfect eighth before Aroldis Chapman struck out two and forced a groundout in a ninth inning that took just 10 pitches, nearly all of them registering 100-102 mph.
That set up the decisive bottom of the ninth. Cozart, who extended his hitting streak to a career-high 13 games, got things started with a single off Belisario, allowing for Hanigan to hit the game-winner on the first pitch of the next at-bat.
"I was just pumped," Hanigan said. "I got to second in time to see if the guy was going to score. It looked like it was going to be close, so I was hoping he was going to get in there. Cozy went all out, got in there and it was just awesome.
The Reds have now won four games in a row for the first time since Aug. 11-15, and Hanigan said he still isn't sure if the team is clicking on all cylinders quite yet.
"We're winning the close games right now," Hanigan said. "I'd like to see a few more big hits and a little more offense, but hey, we're winning games, we're rolling, the team's feeling it and the guys are having a good time. That's what it's all about."
Jeremy Warnemuende is an associate reporter for MLB.com. This story was not subject to the approval of Major League Baseball or its clubs.