A's unleash seven-run inning to back Colon
A's unleash seven-run inning to back Colon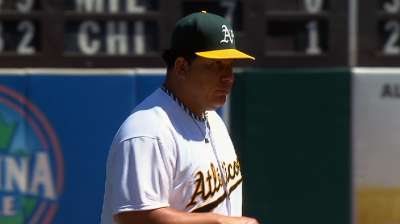 OAKLAND -- Bartolo Colon's velocity returned as he pitched past the fifth inning for the first time since July 31, and the A's beat the Astros, 7-2, to win the four-game series, maintain their 1 1/2-game lead over the Rangers atop the American League West and improve to a season-best 23 games over .500.
Colon's stretch of four starts having pitched five innings or fewer had matched the longest such streak of his 16-year career. He responded by stifling the Astros to a lone first-inning run over six innings, striking out seven and walking one.
"That was vintage Bartolo, so to speak," catcher Stephen Vogt said. "He had good velocity and good life on the ball. It was moving."
Vintage indeed. Colon recorded his 15th win of the season to become the first pitcher in American League history with 15 wins with four different teams (Indians, White Sox, Angels and A's). The return to form was encouraging for an Oakland club that will rely on Colon's consistency as it looks to win its second straight division title, but on Sunday he received ample support after the offense posted a seven-run third inning.
"I can throw harder right now and I feel like I have more power than the last outings," Colon said through an interpreter.
The 40-year-old right-hander allowed the run on a single by Jonathan Villar and double by Jose Altuve to open the game but only gave up three more hits and a walk the rest of the way.
"I concentrated more right after that [run]," Colon said.
All the A's runs came after Astros starter Lucas Harrell had recorded the second out of the third, with Brandon Moss doubling in the first two runs and Seth Smith punctuating the inning with a three-run no-doubter into the right-field seats.
The rally came without the help of Josh Donaldson, who missed just his third game of the season with a strained right quad. Moss continued his hot streak by going 3-for-4 and is batting .339 with 13 runs, eight home runs and 19 RBIs over his past 20 games, while Daric Barton went 2-for-2 with two walks and is 5-for-12 with runners in scoring position since he was recalled.
"That's how we win games around here," Smith said. "It's not really one or two guys who carry us. It's kind of a concerted effort and we all do our part and usually the outcome is good."
Yoenis Cespedes continued his recent tear as well with two hits and is now batting .406 in September with six multihit games after hitting .216 in August -- the lowest average over a month in his career.
"That's big for us," A's manager Bob Melvin said. "It just seems like we have better energy when he's swinging the bat."
Harrell, who got the late nod after Paul Clemens was scratched with a blister, entered the game having made 11 relief appearances and 21 starts for Houston this season. In 11 of his 21 starts, he had allowed two runs or fewer, but he now has allowed 23 runs to the A's in 21 1/3 innings this year.
"We get some good looks at him," Melvin said. "We got some guys who have some good numbers. He'll walk some guys and we'll take some walks."
"I think that along with the fact that he just hasn't thrown the ball well this year, that's probably it more than anything else," Jed Lowrie added.
The A's ended their first season series against the Astros as a division rival with a 15-4 mark and finished their 10-game homestand with an 8-2 record. They now hit the road for six games, including three in Texas for the last series of the season against the Rangers.
"It doesn't matter who we play," Vogt said. "We have to win every game. And coming away 8-2 on this homestand is a good way to roll into the road."
"There's a combination of some good things happening right now," Melvin said. "It just seems like this is a very good stretch for us when you think back to our body of work throughout the whole season."
Jeff Kirshman is an associate reporter for MLB.com. This story was not subject to the approval of Major League Baseball or its clubs.