Harrell's spot start unravels with one big inning
Harrell's spot start unravels with one big inning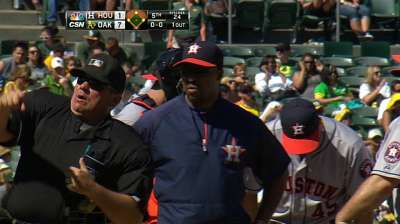 OAKLAND -- Before the sixth inning, the Astros were already out their scheduled starting pitcher, their manager and pretty much out of the game.
A two-out, seven-run rally by the Oakland A's in the third inning dug a hole too deep for the Astros, as they lost, 7-2, on Sunday afternoon at O.co Coliseum.
The Astros (47-96) took the series opener Thursday, then dropped three in a row to the A's (83-60). Houston's seven-game road trip now heads to Seattle for a three-game set starting Monday.
A little more than two hours before first pitch, right-hander Paul Clemens was scratched from the series finale because of a blister on the middle finger of his pitching hand. Lucas Harrell made the start, his first since Aug. 19 at Texas. He worked a 1-2-3 first inning and got out of a jam in the second before things unraveled in the third, negating the 1-0 lead the Astros created in the first.
It was a frustrating series for Houston. Manager Bo Porter was ejected Thursday and again Sunday in the bottom of the fifth inning with one out and the bases loaded during a meeting at the pitcher's mound with Erik Bedard and the infielders.
Porter was talking to his players when home-plate umpire Hunter Wendelstedt approached the mound as is standard to move things along. Porter turned around, said something to Wendelstedt and was ejected.
"I just asked a simple question: 'Where are those pitches?' And he threw me out of the game," Porter said. "I did not agree. ... I felt like there were a couple of pitches he could have called strikes."
The damage in the third started with a two-RBI double by Brandon Moss. Yoenis Cespedes followed with an RBI single, giving the A's a 3-1 lead. Harrell walked Alberto Callaspo, then Daric Barton singled in Cespedes. Seth Smith smashed a fastball to right-center for a three-run homer, making it 7-1.
Harrell's long third inning was his last. He struck out two and allowed seven hits and two walks in his 72-pitch outing.
Harrell (6-16, 6.01 ERA) said that although he was notified he'd start approximately 45 minutes before the game, it was not an excuse.
"If you're put in the game to get people out, you get people out," Harrell said. "That's just the way it is in this business."
Oakland starter Bartolo Colon (15-6, 2.85 ERA) threw six innings of one-run ball and allowed five hits and one walk, striking out seven. L.J. Hoes (2-for-2 with two walks) was the only Astros player with more than one hit; the team went 1-for-14 with runners in scoring position.
Colon became the first pitcher in American League history with 15 wins with four different teams (Indians, White Sox, Angels, A's).
"It's really hard," Porter said. "You put yourself in a position where they score seven in one inning to a ballclub like the A's have. That bullpen is tough. We've faced Colon a couple of times this year. He's a strike-thrower, we know it. And he just continued to pound the strike zone."
The Astros scored on Jose Altuve's RBI double in the first and Brandon Barnes' RBI single in the seventh.
Bedard tossed four scoreless innings in relief of Harrell, and Jorge De Leon contributed a scoreless eighth.
"They did a tremendous job of saving us some extended innings," Porter said. "They saved us from using the rest of the bullpen. Unfortunately, we couldn't muster anything against those guys."
Willie Bans is a contributor to MLB.com. This story was not subject to the approval of Major League Baseball or its clubs.