Harper to visit doctor about hip on Monday
Harper to visit doctor about hip on Monday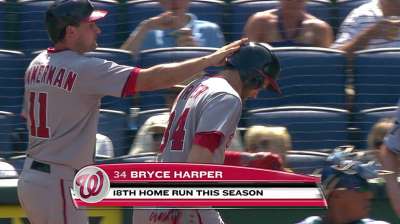 MIAMI -- Nationals outfielder Bryce Harper will visit team physician, Dr. Wiemi Douoguih, on Monday about the soreness in his left hip.
Following Saturday night's 9-2 win over the Marlins in which Harper was scratched from the lineup 10 minutes before first pitch, manager Davey Johnson said the 20-year-old would travel to Washington for tests on Sunday.
"Hopefully miracle cure and he's in New York," Johnson said after the Nationals' 6-4 win over the Marlins on Sunday.
Asked whether Harper would play on Monday when the team opens a four-game set against the Mets in New York, Johnson said "probably not."
"Hopefully, they'll fix him up and he'll come join us," Johnson said.
Christina De Nicola is a contributor to MLB.com. This story was not subject to the approval of Major League Baseball or its clubs.