Bullpen shaky in finale against Rangers
Bullpen shaky in finale against Rangers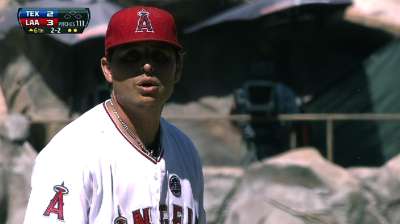 ANAHEIM -- The Angels are in the midst of what is arguably their best stretch of baseball, and strong pitching has been largely responsible.
Over 15 games leading up to Sunday, the Angels had the best team ERA and second-best starters ERA in baseball, and they were tied for the second-best bullpen ERA.
However, in a 4-3 loss to the Rangers on Sunday afternoon at Angel Stadium, the bullpen ultimately let them down.
"It's tough because [Jason] Vargas pitched a great game," Michael Kohn said. "Deserved to win and obviously didn't get it."
Clinging to a 3-2 lead after six, the Angels turned to a bullpen that had a 1.88 ERA since Aug. 23, but Buddy Boshers and Kohn each surrendered a run.
Boshers retired Jurickson Profar, but he walked Leonys Martin before Kohn was summoned.
Kohn promptly surrendered a ground-rule double to Ian Kinsler. With runners on second and third, Elvis Andrus hit a fly ball to shallow center, and while Kole Calhoun raced in and made a diving grab, Martin tagged up and tied the game.
Alex Rios -- who gave the Rangers a 1-0 lead with a home run in the first -- followed with a run-scoring double that a diving Mike Trout just missed catching, giving Texas a 4-3 lead.
"Made a bad pitch to Kinsler," Kohn said. "That's pretty much all I did. Other than that, I thought I threw the ball well. Got Andrus to pop up, infield obviously playing in in that situation, Calhoun made an unbelievable catch. Then Rios, got in on his hands pretty good, and he dumps it in to short center field."
While the bullpen did not live up to its part of the bargain, Jason Vargas began the game with another quality start.
The left-hander allowed two runs on six hits in six innings. He also struck out eight, lowered his ERA to 4.09 in the six starts since he was activated from the DL and retired eight of the final 10 batters he faced.
"Jason did a great job," Angels manager Mike Scioscia said. "It's a tough lineup to get through, and it's hot. He needed a lot of pitches to get through five but felt strong enough to finish six and looked good in the sixth inning."
Calhoun provided the Angels with their first run of the game when he led off the second with a home run -- his sixth of the season -- to right field.
The home run gave Calhoun six in 38 games, which would put him on pace for 25 home runs in a full season.
"I've always hit for power everywhere I've been," Calhoun said. "I'm not going to say I can't do it. It's not like I'm up there trying to be a 25-HR guy. It's nice right now, and it's giving us an opportunity to win games. I'm gonna help the team win -- if it's a long ball one day, a sacrifice bunt, it is what it is."
In the fourth, the Angels struck for two more off of Nick Tepesch and Joseph Ortiz.
Tepesch -- who allowed two runs on four hits in 3 1/3 innings -- gave way to Ortiz after Calhoun struck out and Mark Trumbo singled.
Hank Conger laced a double to left field, and two batters later Andrew Romine gave the Angels a 3-1 lead with a two-run double -- his first career Major League hit from the right side of the plate.
Despite the loss, which denied the Angels their first sweep of Texas since Sept. 28-30, 2009, the Angels have won 12 of their past 16 contests and finished the homestand with a 4-3 record.
"We played good baseball throughout these last couple weeks," Scioscia said. "Hopefully we'll carry it over when we go on the road tomorrow and keep playing good baseball."
William Boor is an associate reporter for MLB.com. This story was not subject to the approval of Major League Baseball or its clubs.