Royals stay hot, knock off Tigers to take series
Royals stay hot, knock off Tigers to take series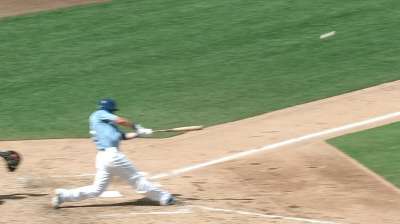 KANSAS CITY -- There was something in the air besides the 99-degree heat on Sunday -- the growing feeling that maybe the Royals really do have something going in their postseason quest.
And why not? After all, with Eric Hosmer contributing a three-run homer, Kansas City knocked off Detroit, 5-2, at Kauffman Stadium and took the series from the first-place Tigers, two games to one. And now they've won 11 of their last 15 games.
Sure, the Royals still trail the Tigers by seven games in the American League Central, but this victory further stoked their Wild Card hopes. They are 3 1/2 games behind Tampa Bay in the race for the second Wild Card spot.
"You want to be at your best this time of year, and our guys are sure doing that," Royals manager Ned Yost said. "I like everything about our club right now. I like our bullpen, I like our starting pitching, our defense has been spectacular, we're running the bases extremely well -- we're very aggressive on the bases, and we're swinging the bats very well. We've got our key guys producing."
The two straight victories over the Tigers not only gave the Royals a 9-7 edge in their season series, but they came after losing the series opener by a head-spinning 16-2.
"It shows a lot of character in our team after they put up 26 hits and 16 runs in the first game to bounce back and take the next two from them and win the series," Hosmer said. "It's huge, especially heading into Cleveland where the last time they swept us. So we've got some business to take care of over there."
The coming road trip takes the Royals to Cleveland, one of the four teams ahead of them in the race for the second Wild Card spot, and then to Detroit.
Royals starting pitcher Bruce Chen tamed the Tigers with seven strong innings for his seventh victory and fourth since joining the starting rotation.
"He's very, very frustrating. You think it's there and then right when you swing it cuts or sinks out of the zone," the Tigers' Torii Hunter said. "He's not nasty, he's just frustrating. I'd pull my hair out, but I don't have any."
The two runs against Chen came on a homer by Jose Iglesias that thrust the Tigers ahead, 2-0, in the third inning. Other than that, the soft-tossing left-hander could barely be touched by the AL's top-hitting club. He gave up five hits and walked none.
"He could have very easily gone back out in the eighth inning," Yost said, "but seven strong innings like that with our 'pen rested, we thought we'd just go ahead and bring in the heat."
Yost meant the heat in the arms of relievers Kelvin Herrera and Greg Holland, not the temperature that kept 16,774 fans fanning themselves. Herrera came in and threw several pitches at 100 and 101 mph in a 1-2-3 eighth inning. Holland pitched past a two-out double by Prince Fielder to notch his 40th save.
"He's fearless out there, and that's what you need in a closer," Hosmer said.
The Royals sort of snuck up on Tigers starter Doug Fister. He had a 2-1 lead in the fifth inning, got two outs and then, bang. Alex Gordon got a single off the glove of first baseman Victor Martinez, Emilio Bonifacio lined a single to right and Hosmer sent a 2-2 pitch soaring high into the hot afternoon.
"Eric has been tremendous the last two or three months of the season," Chen said. "He has really carried this team offensively. Gordon has done it, too, and Billy [Butler], but Hoz has been clutch lately."
The ball came down over the center-field wall for a three-run homer, and the Tigers were on the other side of a 4-2 score. The homer was the 16th for Hosmer.
The Royals have an 11-2 record when Hosmer clears the wall and no wonder -- he's hit six go-ahead homers and three that have tied the score.
Jarrod Dyson opened the seventh with a drive down the right-field line and he streaked to a triple. After Phil Coke relieved Fister, Gordon dumped an RBI single into right field for a 5-2 lead.
The Royals' first run came in the fourth as Bonifacio walked, Hosmer singled for a 10-game hitting streak and Butler lined an RBI single to left.
All that resulted in a second straight win in the wake of the 14-run whipping administered by Detroit.
"Baseball is a crazy game," the Tigers' Hunter said. "Once you think you're [riding high], it slaps you in the face and brings you back down. Then you've got to crawl back up there. Sometimes you're the windshield and sometimes you're the bug. You just try your best not to be the bug all the time."
The Royals haven't been a bug very often lately.
"It just shows where we're going as a team," Holland said. "We've grown a lot over the last two or three years as a team. We're not intimidated by anyone. We expect to win each day and that's something we've had to learn to do."
The Royals are seven games over .500 with 19 games remaining.
"We're playing hard. We're giving it everything we can," Chen said. "We understand what we are trying to do here. We know that we're behind a couple teams and every game matters. We're going to take it one step at a time, but I feel like the way we have been playing the last couple weeks has been very inspiring to everyone."
For the first time this late in the season since 2003, the playoffs are within reach.
"We know we're in it. We know we're close, and that's all we need to know," Hosmer said. "Other than that, we're going to come out here fighting to the end."
Dick Kaegel is a reporter for MLB.com. This story was not subject to the approval of Major League Baseball or its clubs.