Donaldson given day off to rest ailing quad
Donaldson given day off to rest ailing quad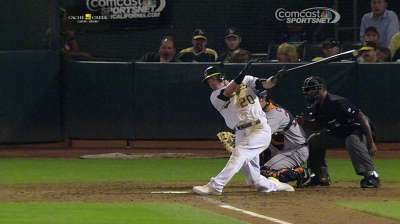 OAKLAND -- Josh Donaldson arrived at O.co Coliseum on Sunday morning expecting to play in the series finale with the Astros, but he was given the day off after tweaking his strained right quad during Saturday's game.
"Sometimes I just ask the trainer," A's manager Bob Melvin said. "The trainer believes this is what we should do, and I agree."
Sunday was just the third time in 141 games this season that Donaldson was not in the starting lineup. Melvin said Donaldson could be used as a pinch-hitter but preferred to keep him fresh for Tuesday's series opener at Minnesota.
"He's a true grinder," Melvin said. "He can play with some nicks, some aches and pains, but this is one where we just felt like it was prudent to leave him out today."
"I never want to miss a game," said Donaldson, one of the A's most fiery competitors. "But I think it's best right now."
Alberto Callaspo made the start at third base, with Eric Sogard batting second in the lineup and playing second base. Donaldson is batting .362 with eight runs, eight doubles, one triple, two home runs, seven RBIs and six multihit games over his past 12 contents, all of which came with him batting second in the order.
"It makes it easier having a true third baseman like Callaspo, but it's always tough to give [Donaldson] a day off because he does want to play every day," Melvin said. "This time of year, every game is really important, and he's an important part of our lineup, so it's difficult to have him out. But with the off-day [Monday], it is definitely the prudent thing to do."
Jeff Kirshman is an associate reporter for MLB.com. This story was not subject to the approval of Major League Baseball or its clubs.