Scott hopes to contribute more down the stretch
Scott hopes to contribute more down the stretch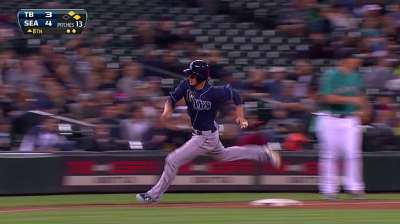 SEATTLE -- Luke Scott stood barefoot on the center-field grass at Safeco Field talking on his cell phone prior to Sunday's game.
"Not a bad day," said Scott of his pregame tactic in the glorious Seattle weather. "Just talking to some friends."
Scott hit cleanup for the Rays on Sunday, which was the 35-year-old's first start since returning from the disabled list (lower back spasms) on Sept. 1.
Scott said it has been "extremely hard and difficult" to deal with being out of the loop where his use has been concerned.
"It cuts you deep to your heart," Scott said. "It would be one thing if I was lazy and I didn't work hard and I didn't put everything I had into it. But since I've put everything into it, I don't cut any corners at all, it makes it tough. But there's still 21 games left."
Despite his lack of use, Scott noted that he's "not one to give up, no matter what."
"Whatever opportunities come, I'll be ready," Scott said. "And I'll continue to root for my teammates and I'm sincere about it. I want to see them perform and do well."
Bill Chastain is a reporter for MLB.com. This story was not subject to the approval of Major League Baseball or its clubs.