Rays hitters finding ways to stay fresh on bench
Rays hitters finding ways to stay fresh on bench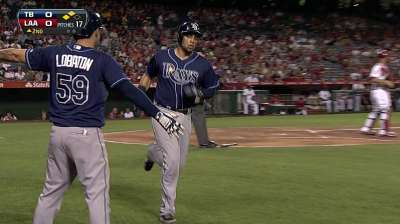 SEATTLE -- One of the hazards of having an expanded roster in September is keeping everybody sharp, particularly the hitters who aren't playing every day.
Kelly Johnson has seen his playing time reduced since Wil Myers arrived in June, so he has had to find ways to remain sharp.
"I think it starts, obviously, with just the mental part," Johnson said. "A lot of times you can get yourself in a bad state mentally when you're not getting the at-bats. Not necessarily a bad attitude, but a little bit of a negative attitude instead of positive with it, being accepting.
"You have to come to the field being prepared every day, the same way that you would be if you were playing. Then once you get to the game, you're going through it mentally with the pitchers, even though not physically the one in there doing it."
Catcher Chris Gimenez was recalled from Triple-A Durham last Sunday and played that day, but has not played since. His fill-in role comes after regular duty as the Bulls' catcher.
"I try to keep myself going as much as I can when I'm not catching in the bullpen and I'm down there," Gimenez said. "Like [Wednesday night] when Torres was warming up, I stood in there when he warmed up. Just try to keep that line of sight going as much as you can. I try to take my batting practice as serious as possible, so I can keep my swing as fluid and easy as I can."
Hitting coach Derek Shelton noted that it's harder to keep the hitters sharp on the road.
"At home we have the tennis ball machine, the eye-track machine, we have the velocity machine that we can use," Shelton said. "It's a little bit harder on the road, so we just try to make sure that they get the reps in and we try to do some velocity work with them."
There also is a fine line to be walked in how much extra work hitters are putting in when their bodies begin to wear down at the end of the long season. The number of swings a hitter takes can be draining.
"This time of year, they shouldn't need reps, especially the starters," Shelton said. "Our guys do a pretty good job of monitoring how many swings they are taking. And I think what we try and do, and I think we do as good a job as anybody, we don't hit on the field a lot."
Adjustments are made to compensate for the time of year.
"Some guys will change to a lighter bat," Shelton said. "I think that's dependent on feel and that usually happens before September. It's probably happened at mid-August if they did that.
"We also lighten the workload a little bit where it's just hand-toss stuff and not live-toss. Or maybe it's just hand-toss. It's more about the volume. By this time of year, we're not doing anything mechanical with swings. We're just trying to maintain and finish strong."
Shelton noted that they have reached a point of the season where "everything's a playoff game."
"So it's adrenalin-based," Shelton said. "We have to make sure we conserve the adrenalin we have, the swings that we have, for on the field and not doing it in pregame."
Bill Chastain is a reporter for MLB.com. This story was not subject to the approval of Major League Baseball or its clubs.