Pirates again have no answers for Cardinals
Pirates again have no answers for Cardinals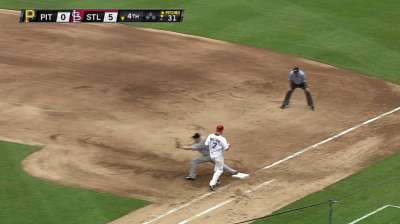 ST. LOUIS -- They may have been outscored 26-10. They may have arrived 1 1/2 games ahead and departed 1 1/2 games behind. They may have suffered their first series sweep here since 2010, when they were a really bad team.
But who says there was nothing good about the Pirates' stay here, which ended with Sunday's 9-2 loss to the Cardinals? They got to leave.
"That's the part you hold onto: You know what? We'll be out of St. Louis tomorrow, in Texas," Pirates manager Clint Hurdle said. "We got to go play. The season doesn't stop, and we got every opportunity to get back to rolling things in a good way.
"We know what we need to do. We'll roundup [Monday] for the first game of a series in a new town."
Yes, the manager really did drop "roundup" in connection with Texas. You can add that aspect of a season's barnstorming to the many, as Hurdle likes to say, "beautiful things" about a pennant race.
Foremost is the privilege of even participating in one.
"We get to do this, we've earned the opportunity to play these meaningful games based on what we've done the entire season," Hurdle elaborated.
Another attraction is that a pennant race is a test of will, talent -- and endurance. It is a gauntlet run with the acceptance that there will be mishaps, some major. No one gets through it fit. But the fittest survive.
The Pirates' latest setback, from which their hottest starting pitcher, Charlie Morton, was ousted in 1 2/3 innings by a foot injury, thus was a natural part of the ordeal.
Michael Wacha, doing his best impression of Adam Wainwright, hurled seven shutout innings of two-hit ball to hand the Bucs a fourth consecutive loss that dropped them 1 1/2 games behind St. Louis in the National League Central.
In a competitive sense, the Pirates did not show up, but were shown up by a Cardinals team they had handled for most of the season. Even after getting swept, the Bucs finished season play with a 10-9 edge over St. Louis.
"That was our last opportunity to play those guys. We needed to come out and have a big series, and I don't think you can have a bigger one than getting the sweep like we did," said Cardinals second baseman and leadoff hitter Matt Carpenter, who went 4-for-11 and scored six runs in the three games.
"Everybody is pretty clear on what's at stake here and the situation we're in and what time of year it is ... that edge is just kind of amping up the focus. Just turning it up a notch because we're in a good position to do some special things and take control of this division. We certainly did that this weekend."
All they did, the Pirates reminded themselves, was pay back what had been done to them last weekend in Pittsburgh.
"Now we know we have to get back on track, and we will," Neil Walker said.
Pain, both emotional and physical, is integral to a pennant race. Morton felt both kinds on Sunday. Coming in with four straight wins and a 1.74 ERA for his prior six starts, the right-hander already trailed 4-0 when his 46th pitch went wild, allowing another run to score.
It also turned out to be his last pitch, as the other kind of pain entered the picture: Within minutes, Morton was walking off the mound with what subsequently was announced as discomfort in his left foot.
Better, at least, than discomfort in his right arm, which he had recently rehabilitated from Tommy John surgery.
The Cardinals remained relentless. After having drawn first blood in the series' first two games, jumping out to a 5-0 lead in both, they leaned on the accelerator even harder Sunday.
"We weren't sharp in any area of the game all weekend," Hurdle said. "They were much sharper than us across the board, and it's very difficult to win a game when you're not functioning. We didn't get off the mound very well, then had 17 scoreless innings [until plating two runs in Sunday's ninth]. That's a bad combination, a tough combination to overcome."
Although Morton's departure was injury-related, Pittsburgh's three starting pitchers combined for 9 2/3 innings in the series, while allowing 13 runs.
The Cardinals got two in the first, when it should have only been one, on Carlos Beltran's sacrifice fly. But another scored when Walker, upended at second by Matt Holliday's typical hard takeout slide, made a low throw to first trying for an inning-ending double play. When the ball skipped by the bag, Jon Jay scored from third for a 2-0 lead.
St. Louis added three more in the second, on back-to-back RBI doubles by Carpenter and Jay before Morton's fateful wild pitch made it 5-0.
"He was getting some pitches up, and also fell behind," catcher John Buck said of Morton. "Still, it wasn't like they were hitting him that hard. They dropped some balls into that Bermuda Triangle [of left- and right-center]."
Stolmy Pimentel, the emergency replacement for Morton, put up two zeros before the Cardinals' four-run fifth. He gave up David Freese's run-scoring single, then Vin Mazzaro gave up a two-run single to Wacha and Jared Hughes allowed an RBI single to Holliday.
The Bucs had only one previous look at Wacha, who threw two no-hit innings against them with four strikeouts in a relief appearance on Aug. 14.
Wacha reinforced that first impression, with seven shutout innings of two-hit ball. He walked and fanned two each.
Pittsburgh avoided a second consecutive shutout on Garrett Jones' RBI double in the ninth off lefty Sam Freeman, and later in the inning Gaby Sanchez lifted a sacrifice fly.
Tom Singer is a reporter for MLB.com and writes an MLBlog Change for a Nickel. He can also be found on Twitter @Tom_Singer. This story was not subject to the approval of Major League Baseball or its clubs.