Kinsler at leadoff in finale; Rios in three-hole
Kinsler at leadoff in finale; Rios in three-hole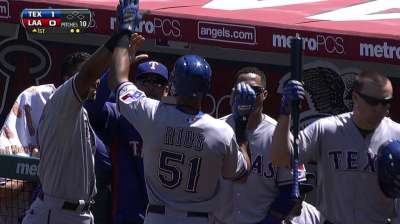 ANAHEIM -- For Sunday's series finale against the Angels, Rangers manager Ron Washington decided to mix up his lineup.
Washington penciled in second baseman Ian Kinsler at the leadoff spot for the first time in over a month. Kinsler had hit third in the order since July 28.
Alex Rios took over the three hole, hitting there for the first time since he joined the Rangers on Aug. 10. The right fielder had hit in the fifth and sixth spots with Texas.
"It is a left-hander today, and I wanted to move it around where we could get Kinsler back there where we have had him, and Rios hit in the three hole while he was in Chicago," Washington said. "We'll see where it goes and hope that the pen is magical today."
While hitting in the leadoff spot for 75 games this season, Kinsler was batting .277 with nine home runs and 40 RBIs, along with a .352 on-base percentage.
In the three spot while with the White Sox, Rios hit .279 with 12 home runs and 55 RBIs. He also had a .329 on-base percentage and .425 slugging percentage. He homered in his first at-bat Sunday against the Angels.
Washington acknowledged that putting his lineup together this season had been a challenge.
"It has been hard to put a lineup together simply because of the missing pieces and injuries," Washington said. "We've had guys struggling and have still done a good job of holding it together."
Quinn Roberts is a reporter for MLB.com. This story was not subject to the approval of Major League Baseball or its clubs.