After knock to the head, Franklin sits out
After knock to the head, Franklin sits out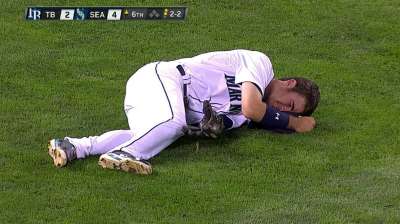 SEATTLE -- Rookie second baseman Nick Franklin wasn't in the lineup Sunday after getting kneed in the back of the head by first baseman Justin Smoak as the two collided while going for a bloop single into shallow right field in the sixth inning of Saturday's 6-2 win over the Rays.
Franklin remained in the game and hit an RBI double in the bottom of the sixth, but manager Eric Wedge moved Dustin Ackley back to second base for Sunday's series finale and gave the 22-year-old a day off.
Wedge said the decision to sit Franklin wasn't just about his head, but also wanting to get Ackley some time at second base to maintain his versatility and to balance the lineup against tough Rays lefty Matt Moore.
"He's fine," Wedge said. "I appreciated the fact he stayed in the ballgame and helped us win. Obviously, the trainers took a good look at him and felt comfortable with it. If they didn't, we would have taken him out. But the fact he stayed in there and contributed, that was impressive. That was good to see."
Franklin said he was okay after Saturday's game.
"It was just a little knee to the head and I'll get right back at it," Franklin said. "Obviously, you get a little shock at the beginning. You know something hit you hard. But at the same time, I was just desperate to stay in."
Smoak said he had no idea Franklin was even there as he went back for the bloop hit by Wil Myers.
"I told the little guy, don't stand on the tracks when the train is coming through," Smoak said. "He was down for the count. I was just going for the ball there. I didn't think he'd even be there, with the righty up and they were shifted over. I should have caught the ball. But I'm just glad the little man is all right. Maybe it knocked some sense into him."
"He squared me up pretty good," retorted Franklin, "but I'm worried more about his knee than my head."
Greg Johns is a reporter for MLB.com. Follow him on Twitter @GregJohnsMLB as well as his Mariners Musings blog. This story was not subject to the approval of Major League Baseball or its clubs.