Clemens out with blister, expects to make next start
Clemens out with blister, expects to make next start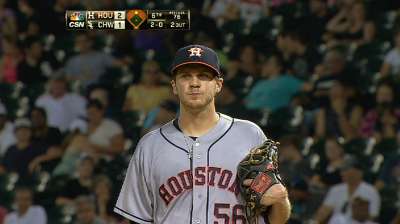 OAKLAND -- Starting pitcher Paul Clemens was scratched from Sunday's series finale against the A's because of a blister on his right middle finger.
The right-hander was disappointed but expects to make his next start. A little more than two hours before first pitch, the Astros decided that the blister could get worse if he pitched.
"The training staff thought it would be best to skip this start," Clemens said. "Three days ago is when I felt it. The skin was getting a little sensitive. It swelled up, got a little fat and it turned into a little bit of a blister. Before we rip it open and split it, we thought it would be best to give it a couple of days."
Clemens is 4-4 with a 5.91 ERA. Right-hander Lucas Harrell replaced Clemens in Sunday's 7-2 loss.
"It's tough," Clemens said. "It's tough having to have someone pick you up today. I pride myself on staying away from that DL and missing time. ... But instead of missing three or four starts, go ahead and miss one and hopefully finish the season."
Willie Bans is a contributor to MLB.com. This story was not subject to the approval of Major League Baseball or its clubs.