Hundley delivers in the Nick of time for Friars
Hundley delivers in the Nick of time for Friars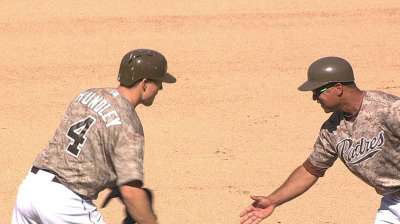 SAN DIEGO -- As far as birthdays go, No. 30 will be remembered in a much more favorable light for Nick Hundley than No. 29 ever did.
A year ago Sunday, Hundley's season was already over, he was coming off meniscus surgery on his right knee and he was largely uncertain what was ahead of him after a season lost to underperformance and injury.
"It was a tough time professionally, for sure," Hundley said.
Which is why his three-run pinch-hit double in the seventh inning Sunday probably felt so sweet, as the Padres completed a three-game sweep of the Rockies with a 5-2 victory in front of a crowd of 18,656 on a sun-kissed day at Petco Park.
Hundley's hit punctuated a four-run inning for the Padres (65-77), who turned a 2-1 deficit into a victory and their first series sweep of the Rockies (66-78) at home since Sept. 4-6, 2006.
Hundley's hit came on a two-strike sinker by Rockies reliever Wilton Lopez, who entered the game after Roy Oswalt allowed the first three runners of the inning to reach base and then walked pinch-hitter Jesus Guzman with the bases loaded to force in the tying run.
Oswalt came into the game after starting pitcher Chad Bettis tossed three scoreless innings. The Rockies are trying to limit Bettis' innings while also evaluating Oswalt.
"[Bettis] threw the ball very well, took a big step in the right direction today," Rockies manager Walt Weiss said. "I thought Oswalt threw the ball really well, but ran into trouble in the seventh."
That was enough for Oswalt, who was replaced by Lopez, who got ahead of Hundley in the count before Hundley went down and got a sinker, driving it into the left-field corner for three runs.
That this game came down the late innings wasn't the least bit surprising. The Padres were either tied or behind in the seventh inning of all three weekend games.
"In a close game, a well-pitched game, it sometimes comes down to a big hit," Padres manager Bud Black said.
Pitching -- and missed opportunities -- permeated this game for six innings, as Padres starting pitcher Ian Kennedy allowed one earned run on five hits with two walks and seven strikeouts in five innings. He left the game after 87 pitches in the bottom of the fifth inning when the Padres needed a pinch-hitter.
"In the regular season [before Sept. 1 when the rosters expanded], he probably stays in that game," Black said. "But with a full bullpen and the way we've been scoring runs, we felt it was a good time to get [pinch-hitter Mark Kotsay] in there."
The Padres got a run in the inning on a sacrifice fly by Rene Rivera, but Kotsay lined out.
Kennedy, who has a 3.76 ERA in seven starts since being traded to the Padres on July 31, understood the move.
"It's happened to me before. But you can't really think about that," he said. "And in the end, everyone's happy."
That wasn't so much the case early on, though, as the Padres were a little sloppy in the field.
In the third inning, Corey Dickerson lined a ball to center field that Reymond Fuentes appeared to have a bead on. But the ball glanced off Fuentes' glove as he appeared to lose the ball at the last moment. The play was ruled a triple and Dickerson later scored.
With one out in the fourth inning, Charlie Blackmon scorched a ball that Ronny Cedeno booted at shortstop for an error. The ball trickled into shallow left field, allowing Blackmon to advance all the way to second base. Blackmon would later score.
There were a few missed opportunities earlier in the game for the Padres, as well.
The Padres had runners on first and second base in the third inning but Kennedy failed to get a bunt down. One out later, Fuentes tried to score from third base on an errant pitch by Bettis, but catcher Jordan Pacheco tagged out Fuentes as the plate, though replays later showed Fuentes got his hand in before the tag.
The Padres got a run in the fifth inning, but only after Kyle Blanks was tagged out in a rundown between third and home. The Padres got a run in the inning on the Rivera sacrifice fly, though the damage -- runners on the corners with no outs -- could have been much worse.
Nick Vincent (4-2) picked up the victory in relief, as he worked a scoreless seventh inning. Oswalt, who allowed five earned runs in 3 1/3 innings, took the loss.
As for Hundley, he wasn't in the starting lineup on Sunday, but still went about preparing as if he was. He took some swings in the cage before being called upon in the seventh inning. All in all, it wasn't a bad birthday at all -- and certainly better than where he was a year ago.
"[Baseball] is such an awesome game, because you never really know what's going to happen or where you're going to be," Hundley said. "I think the biggest thing I learned last year was the more you worry about the future, the worse you'll be.
"I've learned that you've got to try to stay in moment, be happy you're here with your teammates, that you're playing and just enjoy it."
Corey Brock is a reporter for MLB.com. Keep track of @FollowThePadres on Twitter. This story was not subject to the approval of Major League Baseball or its clubs.