Decisive seventh seals sweep at hands of Padres
Decisive seventh seals sweep at hands of Padres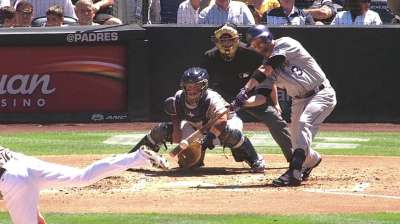 SAN DIEGO -- When a baseball season enters the looking-to-next-year phase, as is the case with the Rockies, some trails will yield better results than others.
Rookie starter Chad Bettis provided a positive, if in a small sample, during three scoreless innings. But veteran Roy Oswalt's 3 1/3 innings blew up on the Rockies. The Padres touched him for five runs in 3 1/3 innings, and completed a three-game sweep with a 5-2 victory at Petco Park on Sunday afternoon in front of 18,656.
The Rockies want to limit the innings of Bettis, who had the best of his eight performances (two hits, four strikeouts) since being called up from Double-A Tulsa. Tied to that is a desire to evaluate Oswalt, 36, who signed with the team in May and made four rough starts before going to the disabled list with a left hamstring strain.
Oswalt had a smooth fourth, gave up a run on two hits in the fifth, and pitched a scoreless sixth. But in the seventh, the Padres loaded the bases on a walk and two hits. Then Oswalt forced a short fly ball for one out before walking pinch-hitter Jesus Guzman to force in a run. Manager Walt Weiss replaced Oswalt with Wilton Lopez, who gave up a three-run double to pinch-hitter Nick Hundley.
Bettis made some adjustments with his fastball and left on a positive note. As for Oswalt, whose ERA rose to 8.57, at least he has three starts left to show the Rockies some positives.
"[Bettis] threw the ball very well, took a big step in the right direction today," Weiss said. "I thought Oswalt threw the ball really well, but ran into trouble in the seventh.
"I went out to talk to him and he said he felt really good, still felt strong. He said he was going to get that guy to hit into a double play, so I left him in there."
Bettis reached 96 mph with his fastball and felt good about the action of the pitch. Now, he wants to reduce the speed of his changeup. It's running 85-89 mph, but he wants it around 80-85. At any rate, Bettis, who will throw out of the bullpen the rest of this season, hopes he's making a good early impression on the Rockies.
"What I'm learning up here and what I'm working on are things I can definitely continue during the offseason," Bettis said.
Bettis had a little luck, also. His final pitch went to the backstop, but caromed back to catcher Jordan Pacheco, who dove back to the plate to tag Raymond Fuentes, who was trying to score from third. Replays showed Fuentes' hand touched the plate before the tag, but home-plate umpire Todd Tichenor saw it otherwise.
Sunday was the second bit of game action for Oswalt since the injury. His only other time on the mound was Wednesday for Rookie League Grand Junction. He admitted everything Sunday was not at Major League level.
"My arm strength was a little bit down as far as velocity, but I felt OK," said Oswalt, who topped out at 91 mph on his fastball, but was mostly around 89.
Padres manager Bud Black said he saw some good out of Oswalt.
"It was enough stuff, his ability to move the ball around the strike zone and make pitches," Black said. "He looked fine. He looked good. This guy is a very, very good pitcher."
Any pitching experiment has a low chance of success when the offense struggles, and the Rockies scored a total of six runs in the three weekend contests. The Rockies played the series without All-Star left fielder Carlos Gonzalez, whose sprained right middle finger isn't going to let him bat anytime soon, and lost center fielder Dexter Fowler on Friday night with a twisted left knee.
The Rockies also played the last two games without catcher Wilin Rosario, whose 74 RBIs are one behind Michael Cuddyer for the team lead. Weiss said Rosario is dealing with problems with his wisdom teeth. It's not clear if he will play in Monday's opener of a three-game series at San Francisco.
On Sunday, Corey Dickerson tripled and scored on Cuddyer's double in the third. Charlie Blackmon, after reaching on a fourth-inning error by the Padres' Ronny Cedeno, scored on Pacheco's double. Both runs came off starter Ian Kennedy, who struck out seven in five innings.
Winning pitcher Nick Vincent (4-2), the third of the Padres' five pitchers, struck out one in the seventh. Huston Street (29th save) delivered the last of the Padres staff's 13 strikeouts in the ninth.
Longtime Rockies first baseman Todd Helton, who hasn't announced his retirement, but is expected to do so at season's end, went 0-for-4, but left with impressive numbers at Petco, and against the Padres -- who drafted Helton out of Knoxville (Tenn.) Central High in 1993. Helton elected to play football and baseball at the University of Tennessee before the Rockies selected him in 1995.
Helton has a .330 career average with 33 home runs and 126 RBIs against the Padres, and has hit .338 with 10 homers and 36 RBIs at Petco since it opened in 2004.
Thomas Harding is a reporter for MLB.com. Read his blog, Hardball in the Rockies, and follow him on Twitter @harding_at_mlb. This story was not subject to the approval of Major League Baseball or its clubs.