Carpenter sets single-season hits record at Busch
Carpenter sets single-season hits record at Busch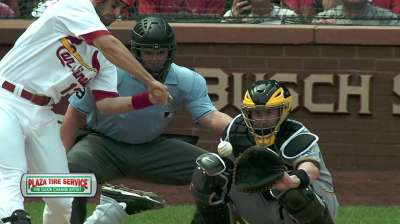 ST. LOUIS -- With a first-inning single, Matt Carpenter claimed the Busch Stadium III single-season record for most hits with his 99th on Sunday. Albert Pujols previously held the ballpark record with 98 hits in 2008, which Carpenter tied Friday.
And the 27-year-old second baseman didn't stop there in the Cardinals' 9-2 win over the Pirates. A double in the second made him the first Cardinals player to collect 100 or more hits at home since Pujols (111) and Edgar Renteria (103) did it in 2003.
"It's definitely quite a thrill to hear your name in the same sentence with some of these guys," Carpenter said. "But for me, there's nothing bigger than this weekend against the Pirates. That's why we play, that's why I play is to win ballgames, and we're doing that. It's just a lot of fun."
The ballpark record is just the latest in a long line of statistical achievements for Carpenter this year, his second full season in the Majors. The All-Star second baseman is also closing in on the stadium record for doubles, trailing Scott Rolen's 29 in 2006 by two. He is first in the National League in hits (174), doubles (48) and multihit games (56). He also leads the Majors with 112 runs.
If you ask manager Mike Matheny, Carpenter has played his way into the NL MVP conversation.
"I don't think you can leave him out," Matheny said. "He's won over the respect and admiration of the league, the fans and absolutely this clubhouse."
Chad Thornburg is an associate reporter for MLB.com. This story was not subject to the approval of Major League Baseball or its clubs.