Wooten thrives out of 'pen away from Miller Park
Wooten thrives out of 'pen away from Miller Park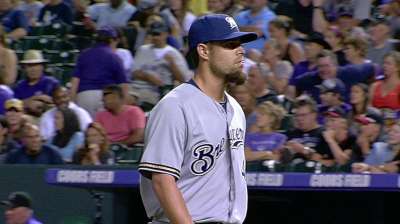 CHICAGO -- Going into Sunday's series finale against the Cubs, rookie reliever Rob Wooten's road ERA was 0.77 (one earned run in 11 2/3 innings). By contrast, his ERA in eight appearances at Miller Park this season is 6.48 (six earned runs in 8 1/3 innings).
The right-hander -- who tossed a scoreless inning of relief in Saturday's 5-3 win at Wrigley Field -- said he loves the surrounding environment when he takes the mound in an opponent's ballpark.
"I like the atmosphere on the road," Wooten said. "[The fans] are booing you and trying to get under your skin a little bit, but that just fires you up even more."
Wooten said he enjoys pitching at Miller Park as well, and he said his inflated home ERA is mainly the result of two extra-base hits he's given up.
In two appearances against the Angels on Aug. 30 and Aug. 31, he gave up five of the seven earned runs he's allowed on the season.
"It's just baseball," Wooten said. "I gave up a bases-clearing double down the left-field line and bases-clearing double down the right-field line. You take those two away and my home appearances have been a little better."
Wooten said that he feels his ability to embrace pitching on the road could serve him well if he pitches in the postseason someday.
"We played in San Francisco this year and I pitched two or three times there," Wooten said. "It's just a packed house and just a playoff atmosphere, and I loved it.
"You have butterflies when you go out there, but you're not nervous. You're just anxious and you want to get out there and you want to do well."
Manny Randhawa is an associate reporter for MLB.com. This story was not subject to the approval of Major League Baseball or its clubs.