Rogers' dominance in win highlights surging rotation
Rogers' dominance in win highlights surging rotation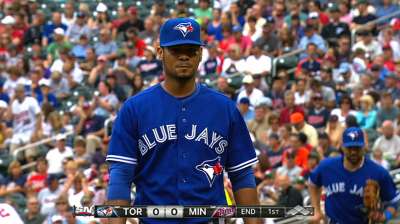 MINNEAPOLIS -- The Blue Jays are enjoying one of their best stretches of the season and the main reason is the performance of the rotation.
Toronto's starting staff had been its biggest weakness all year, but the results have changed over the past 10 games. The turnaround has come too late to make a difference in the standings, but it's still an encouraging sign for a team that will be looking for answers during the offseason.
Right-hander Esmil Rogers continued the recent success by tossing 7 2/3 scoreless innings, while Jose Reyes had a key RBI double to lead the Blue Jays to a 2-0 win over the Twins on Sunday afternoon.
"He was mostly fastballs, but he was in the zone, and he has life when he's in the zone," Blue Jays manager John Gibbons said of Rogers. "That has been a key for him all year. Early on when he had a good stretch, it was pretty simple how it works and he has gained confidence."
Toronto's starters have now allowed three runs or fewer in 10 consecutive games, which is the longest streak since the club had 11 straight to end the 2011 season. The staff's ERA over that span is a sparkling 2.18 ERA and has led to an 8-2 record.
The recent performance has provided a glimpse of just how different this season could have gone if the Blue Jays had received consistent performances on the mound. The starters have ranked near the bottom of the Major Leagues in almost every category, and even following the recent string of success, the numbers are ugly.
The Blue Jays' rotation sits second-to-last in ERA (4.83), second-to-last in innings pitched (797 1/3) and fifth-worst in opponents' batting average (.272). But the numbers of late have told a different story, and have led to Toronto winning four consecutive series for the first time this season.
"We're starting to play good. Everything starts on the mound, and our starting pitching has been good," said Blue Jays closer Casey Janssen, who recorded his 29th save with a clean ninth inning.
"When you're not down early, it gives our hitters a chance to stay in the game mentally and put up some runs. With 13 guys in the bullpen, Gibby can do whatever he wants to get the right matchups. It starts on the mound and our offense is going to score."
Rogers allowed just three hits and one walk while striking out four to earn his fifth victory. The righty has allowed two runs or fewer in all but one of his past five outings.
The only real trouble for Rogers came in the sixth inning, when he surrendered a leadoff double to No. 9 hitter Pedro Florimon. Center fielder Alex Presley followed with a single to left, but Twins third base coach Joe Vavra opted to hold Florimon at third, even though it appeared the run would have scored relatively easily.
The move immediately backfired, as second baseman Ryan Goins fielded a groundball during the ensuing play and threw a strike to catcher J.P. Arencibia, who tagged Florimon at home for the first out of the inning. Rogers then retired the next two batters to escape the jam and provide Toronto with an opportunity to take the lead late.
"Joe Vavra said he lost sight of the ball on the single," Twins manager Ron Gardenhire admitted after the game. "He wasn't sure if Reyes knocked it down. He couldn't find the ball and put his hands up. It turned out to be a big one."
Minnesota's blown opportunity ensured both sides remained locked in a scoreless draw until the eighth. That's when Goins got a rally started with a leadoff single to right, and two batters later, he came around to score on a double to the gap in right-center field by Reyes.
Reyes stole third base and scored on a bloop single by Rajai Davis that went off the glove of second baseman Brian Dozier. The late rally overshadowed a strong outing by Minnesota's Canadian left-hander Andrew Albers, who tossed seven shutout innings and allowed just four hits.
Both of Toronto's runs were charged to right-hander Jared Burton, who allowed three hits in his lone inning of work. That brought Toronto's six-game road trip to an end on a winning note, as the club finished with a 5-1 record through Arizona and Minnesota.
It's up for debate just how important games in September are for teams that won't be making the postseason, but there are several members inside the Blue Jays clubhouse who have been vocal about the need to finish strong.
Janssen spoke out a couple of weeks ago about his team's perceived lackadaisical play on the field. At the time, the Blue Jays were at rock bottom but have since turned things around, and that's an encouraging sign for the veteran closer who insists there's still plenty left to play for.
"I think there are young guys here that we want to teach them the winning mentality," Janssen said. "Not to be light and loose when we lose, to be frustrated.
"Also, what comes with winning is coming to the park with a smile on your face and passing the time in a positive way ... when we can just let our talents play and hopefully that means we're winning."
Toronto will enjoy an off-day on Monday before opening a three-game series against the Angels on Tuesday night at Rogers Centre. That is the start of a nine-game homestand, which also includes games against American League East rivals Baltimore and New York.
Gregor Chisholm is a reporter for MLB.com. Read his blog, North of the Border, and follow him on Twitter @gregorMLB. This story was not subject to the approval of Major League Baseball or its clubs.