Albers' excellent start for naught as Twins blanked
Albers' excellent start for naught as Twins blanked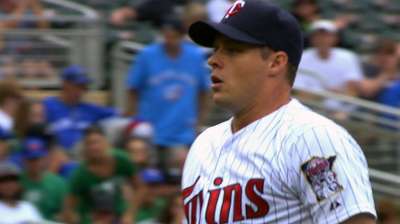 MINNEAPOLIS -- It was about as good of an outing as Canada native Andrew Albers could have hoped for in his first career start against the Blue Jays, whom he rooted for while growing up in North Battleford, Saskatchewan.
Albers, who had a large section of fans cheering for him despite their allegiance to the Blue Jays, did his part, as he threw seven scoreless innings, scattering four hits while striking out five with no walks.
But unfortunately for Albers, his teammates couldn't do much to help him, as the Twins were shut out for the 11th time this year and reliever Jared Burton faltered in the eighth inning in a 2-0 loss at Target Field on Sunday afternoon.
"It felt good, but it obviously would've felt better if we would've won," said Albers, who has a 3.35 ERA in seven starts this year. "That's the most important thing. Unfortunately, we just couldn't get the big hits today when we needed to, and that's how it goes sometimes."
Albers departed after throwing 97 pitches, and Burton was called upon in the eighth with the game tied. But Burton struggled from the start, giving up a leadoff single to Ryan Goins before Goins was bunted to second base by Kevin Pillar.
Jose Reyes then came through with an RBI double to right field and promptly stole third base. He scored on a shallow pop fly to left field from Rajai Davis that glanced off of Brian Dozier's glove, as right fielder Clete Thomas was late getting to the ball.
"The pop fly add-on run was a big run," Twins manager Ron Gardenhire said. "Clete -- and I think he knows it -- has to come in hard and catch that ball with the infield in. Plain and simple."
The two runs were enough for Blue Jays right-hander Esmil Rogers, who threw 7 2/3 scoreless innings to get the win. Rogers surrendered just three hits and walked one while striking out four.
"He was mostly fastballs, but he was in the zone and he has life when he's in the zone," Blue Jays manager John Gibbons said. "That has been a key for him all year. Early on when he had a good stretch, it was pretty simple how it works, and he has gained confidence."
The Twins failed to cash in on a prime opportunity in the sixth, when Pedro Florimon led off the inning with a double. Alex Presley followed with a single to left that would've scored Florimon, but he was held up at third base at the last minute by third-base coach Joe Vavra.
It came back to haunt the Twins, as Chris Herrmann hit a grounder to second base, but instead of turning a double play, Goins threw home to get Florimon at the plate. Dozier then flied out to center field before Oswaldo Arcia grounded out to end the inning, which drew boos from the crowd.
"Vavra said he lost sight of the ball on the single," Gardenhire said. "He wasn't sure if Reyes knocked it down. He couldn't find the ball and put his hands up. It turned out to be a big one."
The Blue Jays also lost out on a scoring chance in the third, as Dozier made a great defensive play to end the inning. Brett Lawrie hit a hard line drive with runners on first and third with two outs, but the second baseman was able to make a leaping catch to rob Lawrie of an RBI single.
It was one of the only highlights for the Twins, who managed just five hits on the afternoon and were swept by the Blue Jays in the three-game series at Target Field.
The loss also extended Minnesota's losing streak at home to 10 games, which set a club record dating back to when the Twins moved to Minnesota in 1961.
"I had no idea that's what it was, but it's terrible, to be honest with you," Dozier said. "We're not playing very good offense, defense, anything. Albers gave us a chance to win the game today, but we had a couple mishaps and you can't have that. We're not playing very good."
Rhett Bollinger is a reporter for MLB.com. Read his blog, Bollinger Beat, and follow him on Twitter @RhettBollinger. This story was not subject to the approval of Major League Baseball or its clubs.