Herrmann, Twins make winter ball plans
Herrmann, Twins make winter ball plans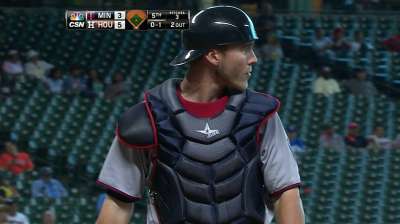 MINNEAPOLIS -- Chris Herrmann is one of several Twins players set to play winter ball this offseason, according to Twins manager Ron Gardenhire.
Herrmann, who has seen time at catcher and in both corner outfield spots this year, recently went into Gardenhire's office to ask permission to play in the Dominican Republic's winter league, and Gardenhire approved, but told him to pick a position. Herrmann, 25, wants to get more at-bats, as he's played in 69 games at Triple-A Rochester and 46 with the Twins.
"I told him I have no problem with it, but to make sure he has a plan," Gardenhire said. "Are you going to catch? Are you going to play the outfield? We all know they want to go down and get their swings."
Gardenhire added that he expects players such as Oswaldo Arcia, Josmil Pinto and Pedro Florimon to participate in winter ball.
But he said second baseman Brian Dozier is not expected to play winter ball in Venezuela for a second straight offseason, as he's played in 127 of Minnesota's 141 games this year. Outfielder Darin Mastroianni, who also played in Venezuela last offseason, is scheduled to stay back and rehab his ankle, which has bothered him all year.
Right-hander Samuel Deduno is also not likely to pitch in his native Dominican Republic, as he's currently shut down with shoulder problems. Twins general manager Terry Ryan said the club will determine in the next 10 days whether Deduno will need arthroscopic surgery on his right shoulder.
Gardenhire said he doesn't expect any of the club's relievers to play winter ball, as they've had plenty of innings this year.
"I know our bullpen guys don't need to go," Gardenhire said with a laugh.
Rhett Bollinger is a reporter for MLB.com. Read his blog, Bollinger Beat, and follow him on Twitter @RhettBollinger. This story was not subject to the approval of Major League Baseball or its clubs.