Baker terrific in return, but bullpen can't hang on
Baker terrific in return, but bullpen can't hang on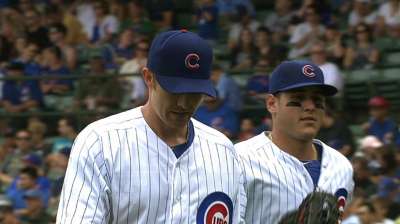 CHICAGO -- Scott Baker's rebuilt right elbow was good enough to shut down Major League hitters for five innings, even if he didn't overpower anyone. The Cubs just couldn't get him the win.
Pinch-hitter Jeff Bianchi hit a two-run single and Yovani Gallardo added an RBI single in the seventh to spark the Brewers to a 3-1 win Sunday over the Cubs, who now have lost 21 of their last 28 home games.
Baker, 31, was making his first start two years and one month after his last, on Aug. 8, 2011. He underwent Tommy John surgery on his elbow on April 17, 2012, and signed a one-year, $5.5 million contract in the offseason. This season, he made eight rehab starts at Class A Kane County and Daytona combined before joining the big league team.
"There were some emotions there," Baker said. "It's been a long, long road, and I'm happy my family was here to share this moment. They're as much a part of this as I am."
Baker's wife, three children, parents and mother-in-law made the trip to Wrigley Field to see the game.
"First time out, he did a great job and we'll leave it at that and evaluate going forward," Cubs manager Dale Sveum said.
The right-hander walked the first batter he faced, Norichika Aoki, then retired the next nine in a row before Jean Segura hit an infield single to open the fourth. Scooter Gennett doubled with one out in the fifth, but he was caught in a rundown to end that threat.
"I've always been a pitcher to pitch according to the situation and whatever the conditions are," Baker said. "With the wind the way it was [blowing in], I'm going to take my chances. If I fall behind a guy, I'll throw it over the plate and let them try to put the ball in play. I don't think you do yourself a favor trying to nitpick. If I get hurt that way, then I get hurt that way. That's the only way I know how to do it."
Baker was on a 75-pitch limit and was lifted after throwing 55 over five innings. He walked one and struck out one, topping at 90 mph on the radar gun on two pitches in the first, and that was it. He would've gone longer if the Cubs were playing American League rules, but the pitcher was due up in the fifth.
"He has more life on his ball than what the numbers say," Milwaukee manager Ron Roenicke said. "Whether he's throwing 88, 90 or 91 [mph], guys say it plays a lot higher than that, so, it's sneaky for whatever reason. I thought he mixed in his changeup well and threw some nice breaking balls. He's a little bit different pitcher than when I last saw him. He did a great job."
Sveum was encouraged by the velocity as well because it was better than Baker had shown in his Minor League outings.
"He was jamming guys," Sveum said. "He's still got that little life, you can tell. Pitching in a game like that, he had a little bit of life that he didn't have in the Minor Leagues."
That's all good news.
"Physically, I've been feeling a little better and a little stronger every time out," Baker said. "You definitely have to harness those emotions and that adrenaline and use it to your favor. I was a little jumpy in the beginning, but for the most part, I was able to do that."
What's next for the right-hander?
"He could have more starts," Sveum said. "Today, you don't want to call it evaluation, but you want to find out where he is."
The Cubs may go with six starters in the final 20 games.
"I'm not going to say 'yes' or 'no' on that right now," Sveum said when asked if Baker would start again. "We'll talk about it and see how he feels the next couple days."
Baker isn't signed for next season but would like another start.
"[The Cubs] left it up to me if I wanted to continue this process," Baker said. "I told them, I feel like I have something to give and the only way to get there is to continue to pitch for the rest of this season, and then have a nice long productive offseason because I didn't have that last year."
With rest this winter, the right-hander feels he'll be ready for next year.
"Fifty-six Major League pitches are a lot different than 56 Minor League pitches," Baker said of his outing. "I don't know what's next. I'll come in and do my conditioning [Monday] like I would normally do and prepare for another start. It was fun today and we'll just have to see what happens after this."
Junior Lake, who hit a grand slam Friday, led off the Chicago fifth with his sixth home run off a 2-1 pitch from Gallardo. But the Brewers rallied in the seventh. Aramis Ramirez doubled with one out against Justin Grimm and Carlos Gomez singled. James Russell replaced Grimm, and Bianchi greeted the lefty with a single to score both runners. One out later, Gallardo hit an RBI single for a 3-1 lead.
It was the 26th blown save for the Cubs, three shy of the club single-season record of 29 set in 2000. Gallardo struck out six over seven innings to improve to 8-3 against the Cubs, who totaled three hits in the game, and two were by Lake.
"Lake had a couple hits and other than that, we didn't [do anything]," Sveum said.
On Monday, the Cubs travel to Cincinnati, then play four games in Pittsburgh. Those teams are battling for position in the postseason with the Cardinals.
"You never want to be a spoiler, not that there's really any spoiling going on," Sveum said. "You're getting in that playoff-type atmosphere when you're trying to win a division, and later, it'll be the same when we get to St. Louis. It's good for everybody to see that and play in those atmospheres."
Carrie Muskat is a reporter for MLB.com. She writes a blog, Muskat Ramblings, and you can follow her on Twitter @CarrieMuskat. This story was not subject to the approval of Major League Baseball or its clubs.