Cain returns to lineup for first time in a month
Cain returns to lineup for first time in a month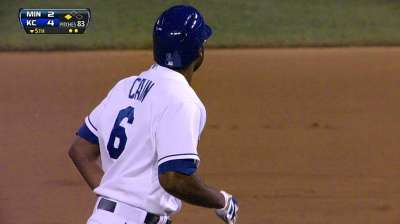 KANSAS CITY -- For the first time in a month, outfielder Lorenzo Cain was in the starting lineup. On Sunday, he started in right field and batted sixth against the Tigers.
Cain was placed on the disabled list on Aug. 10 with an oblique strain and missed 25 games with the injury. He played sparingly as a late-game defensive replacement with two hitless at-bats this week leading up to his return.
"I'm feeling pretty good," Cain said. "I've got to go out there and make adjustments as quick as possible. I didn't get a chance to rehab, but at the same time I've got to go out there and get it done because we're in a playoff run here. I've got to do what I can to help this team."
Entering Sunday's game, Cain was batting .259 with 26 extra-base hits and 43 RBIs. He's also been a force on defense with a career-high seven outfield assists this season.
"He really improves our defense when he's out there," manager Ned Yost said. "With him, [Jarrod] Dyson and Alex Gordon in the outfield, it's as good an outfield defensive alignment as you can ask for, in my opinion. Once he gets hot, he can really drive the ball. I thought he had some good swings. We had to start working him back in there sooner or later, so we decided sooner."
Dick Kaegel is a reporter for MLB.com. Kathleen Gier is an associate reporter for MLB.com. This story was not subject to the approval of Major League Baseball or its clubs.