Davis settling into bullpen role
Davis settling into bullpen role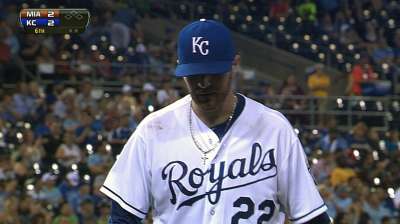 KANSAS CITY --- After two relief appearances, Wade Davis is adjusting back to life in the bullpen.
"The only thing that's really different is getting ready quicker," Davis said. "Everything else is kind of similar, except not having to save your bullets. That's the biggest adjustment really. Getting ready quicker and getting the heart going."
He was a starter until last year with Tampa Bay, when he compiled a 3-0 record and 2.43 ERA in 70 1/3 innings coming out of the bullpen. After being traded to the Royals in the offseason, he switched back to the starting rotation. He started 24 games this season and went 6-10 with a 5.67 ERA in 125 1/3 innings.
He was moved to the bullpen on Aug. 27, and Danny Duffy took his spot in the rotation. Since then, he's gotten the call twice. In both situations, the bases were loaded, and he allowed just one inherited runner to score.
"This is a different guy now," manager Ned Yost said after the game. "This is reliever Davis, who has experience. He did it three nights ago, exact same situation. Bases loaded and he got out of it with one run. He's a guy that I trust in that situation to get us outs."
As for whether he'd have the chance to move back to the rotation, Yost said that was a decision that would wait till after the season ends.
"Wade is going to be a key for us in the next 20 days out of that bullpen," Yost said.
Dick Kaegel is a reporter for MLB.com. Kathleen Gier is an associate reporter for MLB.com. This story was not subject to the approval of Major League Baseball or its clubs.