Bonifacio fitting in nicely with Royals
Bonifacio fitting in nicely with Royals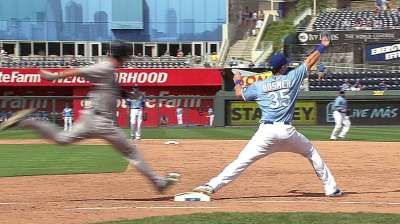 KANSAS CITY -- Emilio Bonifacio has only been with the Royals for a couple weeks, but he already said it feels like family.
"I feel like I've been here forever, because I've gotten a lot of support from everyone," Bonifacio said. "Everybody plays together and plays hard because it feels like home."
Bonifacio was acquired from the Blue Jays on Aug. 14 and entering Sunday's game, he has played 24 games with the Royals and batted .314 with 13 stolen bases.
"He's fit in perfectly with our program, our team," manager Ned Yost said. "He brings life, he brings energy, he loves to play the game. He's been very good anywhere we've put him defensively. He runs to the bases like a phenom, swings the bat well from both sides."
He brought versatility to the Royals as their only switch-hitter, and he's already played three different positions starting at second base, third base and center field.
"I like it when they pick me, because they know what I can do or how I can help them out," Bonifacio said. "I've been playing the last four years in that situation. Wherever they need me, I will be out there."
Dick Kaegel is a reporter for MLB.com. Kathleen Gier is an associate reporter for MLB.com. This story was not subject to the approval of Major League Baseball or its clubs.