White Sox pushing forward despite mounting losses
White Sox pushing forward despite mounting losses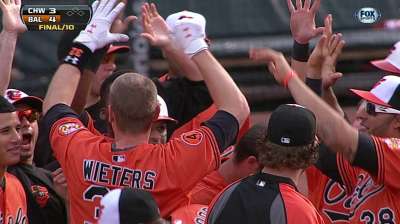 BALTIMORE -- White Sox manager Robin Ventura was in no mood Sunday to talk about the grind of the current 10-game road trip or looking ahead to get back home for the first time in almost two weeks.
Instead, he said the team was just focused on snapping its nine-game skid. The loss Saturday against the Orioles was particularly painful because the White Sox took the lead in the 10th inning on a solo home run by Conor Gillaspie, only to have Matt Wieters respond with a walk-off, two-run single off Addison Reed for a 4-3 victory.
"Any time you lose late, it's always worse," Ventura said. "There's always another game, so you put it behind you. The effort and optimism and all that kind of stuff play into that. That's what makes baseball hard. It's every day."
All of the losses in the nine-game losing streak have been on the road against American League East opponents -- the Yankees, Red Sox and Orioles. Chicago has lost nine straight road games three times this season.
Ventura said being on the road has not made the streaks any harder to endure.
"I don't think that part would matter," Ventura said. "Any time you go through something like this, whether you are at home or on the road, it's equally painful."
Some of the players said the ball has simply not gone their way many times this season.
"I'm sure you've heard it before, I feel like we see something new every game," Reed said Saturday. "Things just aren't going our way, and today it was a bad pitch by me. It happens, it's baseball. Things can happen like that and all we can do is come back tomorrow and do everything we can to get the win."
Todd Karpovich is a contributor to MLB.com. This story was not subject to the approval of Major League Baseball or its clubs.