Detwiler throws encouraging bullpen session
Detwiler throws encouraging bullpen session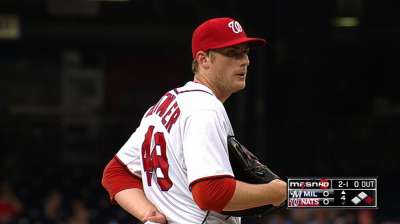 MIAMI -- Nationals left-hander Ross Detwiler threw 20 pitches -- all fastballs -- in his first bullpen session since landing on the disabled list in July.
The 27-year-old, who was shut down for 30 days with a herniated disk in his lower back, tossed both his four-seam and two-seam fastballs. He said that all but one hit the corners of the plate.
"I think it's like at Spring Training, because I felt strong for all 20. But there's a reason they stopped me at 20," Detwiler said. "That was the plan going in. I think they know a little better about building people up than I do. If it was up to me, I would've gone until I couldn't stand up anymore and see where I'm at then."
Detwiler's next bullpen will be on Wednesday in New York, where he will add 10 more throws that will include all of his pitches.
Before landing on the DL on July 4, Detwiler was 2-7 with a 4.04 ERA in 13 starts over 71 1/3 innings. He hopes to make an appearance before the season ends.
"I can always say I'm feeling good," said Detwiler. "But for all the coaches to be out there and see it, it shows them how I'm feeling and also shows myself that I can still locate after two months."
Christina De Nicola is a contributor to MLB.com. This story was not subject to the approval of Major League Baseball or its clubs.