Orioles present 2013 Minor League, development awards
Orioles present 2013 Minor League, development awards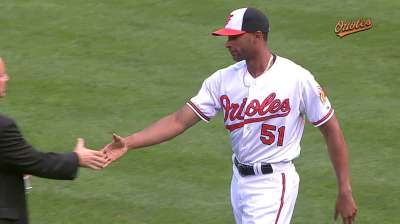 BALTIMORE -- The Orioles announced their 2013 awards for player development and scouting, with new Oriole Henry Urrutia among the winners.
Urrutia, who got the single that started the winning rally in the 10th inning of Saturday's 4-3 win over the White Sox, won the Brooks Robinson Minor League Player of the Year honor. He hit .347 with 50 RBIs in 81 games with Double-A Bowie and Triple-A Norfolk.
He's on his second stint with the Orioles this year and has a .283 average so far. He made his Major League debut on July 20 at Texas and got a single in the third inning.
The Orioles signed Urrutia as a non-drafted free agent on July 11, 2012, and he is the 12th Cuban-born player in franchise history.
"To me, it was a big surprise because I played with a lot of good players, and I didn't think I was going to get it," said Urrutia through interpreter Rudy Arias, a bullpen catcher. "But it was a big surprise for me. I worked as hard as I could to get to the big leagues, and the results were that, being Minor League Player [of the Year]."
Pitcher Mike Wright won the Jim Palmer Minor League Pitcher of the Year Award. He went 11-3 with a 3.26 ERA in 143 2/3 innings at Double-A Bowie. He also made one start with Triple-A Norfolk and turned in 6 2/3 scoreless innings.
The Orioles picked him in the third round of the 2011 First-Year Player Draft.
Infielder Anthony Caronia (Elrod Hendricks Minor League Community Service Award), Bowie manager Gary Kendall (Cal Ripken Sr. Player Development Award), and Area Scout Dave Jennings (Jim Russo Scout of the Year) also won honors. Pat Wesley, trainer for the Class A Frederick Keys was named the Carolina League Athletic Trainer of the Year.
Jeff Seidel is a contributor to MLB.com. This story was not subject to the approval of Major League Baseball or its clubs.