Satin feeling more comfortable in role with Mets
Satin feeling more comfortable in role with Mets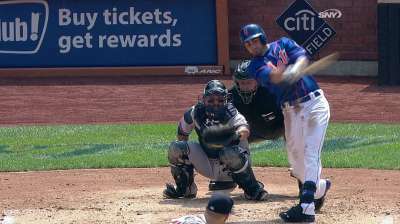 CLEVELAND -- Josh Satin has accepted not being an everyday player and has become comfortable being a big leaguer in New York City. Neither of those things necessarily came easily at first.
Mets manager Terry Collins had plenty of nice things to say about Satin on Sunday, noting how the infielder handles both the bat and his role on the team. Over 57 games this year entering Sunday, Satin was hitting .288/.394/.418 with 14 doubles, two home runs, 12 RBIs and 21 runs scored. He also had 27 walks and 46 strikeouts.
"Josh Satin can swing the bat," Collins said. "He gets on base. He knows how to work a count. He gets bases on balls. He's always hit, no matter where it's been.
"He's the perfect guy to play once in a while, spell a guy. ... He's done a very, very good job here and I'll tell you what, he comes out every day and gets himself ready to play. He hasn't hurt us -- not one bit -- defensively. He's done a nice job both at third and first. I thought today would be a good day to get him some more at-bats."
On Sunday, Satin filled the designated-hitter role for the Mets, batting third in the lineup. Collins' compliments were pleasing to Satin, who has worked hard to put himself in a position where he can contribute.
"It's really hard to play here when you've never done well here before," Satin said. "Being able to have some success just lets you relax and treat these games just like any other game, whereas sometimes I would treat these games like the seventh game of the World Series every day. It was so stressful and just tough to be myself. Just being able to relax and just play is huge."
Satin, 28, was chosen by the Mets in the sixth round of the 2008 First-Year Player Draft. He appeared in 15 games two years ago before playing just once for New York in 2012. He thinks the Mets have a bright future and wishes to be a part of it, even if that doesn't entail a consistent spot in the lineup.
"It's hard at first, but for me, it was just finding a way to be part of the team and that was my way," Satin said. "I took it as a challenge and really try to allow myself to be the best role player that I possibly can."
Mark Emery is an associate reporter for MLB.com. This story was not subject to the approval of Major League Baseball or its clubs.