Braves get two Gattis blasts, nothing else vs. Phils
Braves get two Gattis blasts, nothing else vs. Phils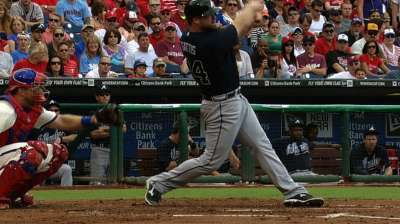 PHILADELPHIA -- Being swept is never pleasant. Still, it happens. And when it does, still having a 12-game lead in the division with just 20 games left in the regular season takes a little bit of the sting out of the situation.
And that's where the Braves stood Sunday even after coming up 0-for-the-weekend at Citizens Bank Park after a 3-2 loss to the Phillies.
Atlanta was held to just two hits by Phillies starter Cole Hamels and B.J. Rosenberg, filling in for unavailable closer Jonathan Papelbon ... and still found themselves in a tie game going into the bottom of the eighth because both of the hits were solo home runs by Evan Gattis, the first of which was unofficially the longest hit in the Major Leagues this season, a jaw-dropping 486 feet.
Gattis came close to hitting a third in the fifth inning, but his long fly was knocked down by a gusting wind blowing straight in from center. Asked about a game plan to pitch to the slugger, Phillies manager Ryne Sandberg smiled.
"Turn up the wind a little bit more," he said. "A tornado might've been blowing and the first one would've gotten out of here. That was dead into the teeth. He just had a couple good swings on Cole."
Both homers were solos and a third drive barely missed going out. So when Phillies right fielder Darin Ruf led off the bottom of the eighth with a homer to right against reliever David Carpenter, it was just enough.
All three games were decided by one run and hinged on late homers: A two-run shot by Cody Asche in the seventh on Friday night, a one-run shot by Freddy Galvis in the ninth Saturday night and Ruf's bomb Sunday.
Next up for the Braves: A four-game series against the last-place Marlins in Miami.
"We got two hits. Two hits by Gattis, two solo home runs. Other than that, we didn't do very much offensively. We didn't do much offensively the whole weekend [eight runs], really," said Braves manager Fredi Gonzalez. "But we pitched well. We just need to get our bats going. We didn't swing the bats. There's no excuses about that. We pitched good enough to win, and didn't hit good enough to win."
Said center fielder B.J. Upton: "We just have to get the offense going. We're fine. We'll come back. We've been playing well all year. This is kind of why you build yourself that cushion. You can't expect to win them all. We'll bounce back."
Braves starter Paul Maholm had given up 12 runs in the first inning of his 23 starts this season, and that continued to hurt him Sunday. In fact, he didn't retire any of the first four batters he faced.
Maholm hit Phillies leadoff man Cesar Hernandez with a pitch, then caught him leaning and threw behind him, resulting in a 1-3-6 caught stealing. He walked Jimmy Rollins, who stole second. A double by Chase Utley and a single by Ruf gave the Phillies a quick 2-0 lead. The way Hamels was pitching, it turned out to be just a little too much.
"The worst is hitting the first guy. I was trying to throw a back-foot slider. And I threw a back-foot slider that hit his back foot," Maholm said. "Then walking Rollins. I missed with a pitch to Utley, but then the ground ball by Ruf hit my glove. I just misjudged it. I could have gotten away with just one [run]. But after that, I felt pretty good. Got some ground balls, got some double plays.
"Obviously Gattis was the bright spot. We've got to learn from it, move on and get back to playing how we do. It's not like we came in here and got blown out or anything. We lost three close games. It's going to happen. But we need to go into Miami and expect to win a series. Now we just have to worry about just winning games."
Said Gonzalez: "[Maholm] kept us in the game."
But he had to pitch out of trouble in both the fifth and sixth. In the fifth, he gave up three straight hits after getting the first out, but got a break when Hernandez was thrown out trying to advance to third on a hit by Rollins. In the sixth, Kevin Frandsen led off with a walk and Asche reached on an error by second baseman Dan Uggla. A double play allowed Maholm to walk Erik Kratz intentionally and then strike out Hamels to strand Frandsen at third, but by then, he'd thrown 108 pitches.
Anthony Vavaro got through the seventh but Carpenter came in to pitch the ninth and ran a full count to Ruf. Not wanting to walk the potential go-ahead run, he came in with a 95-mph fastball and Ruf drove it into the seats in right.
The Braves went down in order in the ninth. They had been swept for just the third time this year. It wasn't what they had hoped for. But, as they packed their bags and headed for the airport, they also knew they're still in pretty good shape.
Paul Hagen is a reporter for MLB.com. This story was not subject to the approval of Major League Baseball or its clubs.