Ruf's blast picks up Hamels as Phillies sweep Braves
Ruf's blast picks up Hamels as Phillies sweep Braves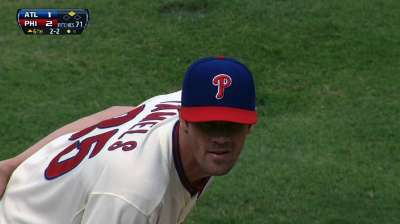 PHILADELPHIA -- The last series the Phillies played against the Braves last month at Turner Field, Charlie Manuel quietly managed the final game of his career.
The Braves won two of three to make the Phillies losers in 19 of their previous 23 games. A couple of days later, the Phillies announced Manuel had lost his job and Ryne Sandberg had taken his place as interim manager. The Phillies are 13-10 since, including a 3-2 victory Sunday at Citizens Bank Park to give them a three-game sweep of the Braves.
"The season is going to end really shortly, and if you don't take it serious, it all adds up," Cole Hamels said. "Your stats and everything that you do, personality wise, is going to add up and it's going to translate into the future of how you play and what you expect out of yourself. Everybody has to try to take it serious and play all the way through."
Darin Ruf hit a solo home run to right-center field in the eighth inning against Braves right-hander David Carpenter to help the Phillies to victory.
The Phillies have no chance to make the postseason, but they have been showing a pulse lately. They are 13-8 since they were shut out in Sandberg's first two games as interim manager, Aug. 16-17 against Dodgers aces Zack Greinke and Clayton Kershaw.
This was the Phillies' first sweep since June 3-5 against the Marlins.
"Look at it like a benchmark of where we need to be, need to get to," Sandberg said. "But we rose to the occasion and played good baseball in all aspects of the game. It's good. It's something we can build on for the rest of the games we have. Especially the young guys. Pitching like that, starting pitching, bullpen guys, for the younger pitchers to face a lineup like that -- it's good experience for those guys."
Hamels pitched very well, except for mistakes to Braves left fielder Evan Gattis in the second and seventh innings.
Hamels served up a 1-0 fastball that Gattis obliterated in the second. The ball carried over Ashburn Alley, just left of the batter's eye, and hit the walkway just above the Tony Luke's stand. ESPN's Home Run Tracker said it travelled 486 feet.
It was the longest home run in baseball this season and the longest in Citizens Bank Park history. ESPN's Home Run Tracker said Ryan Howard hit a 473-foot homer Aug. 30, 2007, against Mets right-hander Orlando Hernandez, which was the previous record at the Bank.
The good news it only cost Hamels one run.
"He's strong," Hamels said of Gattis. "I felt like I was throwing a golf ball out there and he had a driver. He's probably going to be in that strongest-man competition at the end of the year. Definitely going to vote on him, because he'll win. It was impressive. You're trying to work a couple pitches in, just to kind of get ahead, and he definitely didn't let me have it. I guess I'm glad I'm not throwing against him the rest of the year."
Hamels retired 11 consecutive batters and 16 of 17 following the homer, until Gattis hit a first-pitch curveball to left field for a solo homer to make it a 2-2 game.
Two hits, two homers, two runs, tie game.
It has been Hamels' luck this season. He entered the afternoon 79th out of 83 qualifying pitchers in baseball with a 3.36 run support average. But Hamels, who allowed two hits, two runs, two walks and struck out nine in eight innings, got the win thanks to Ruf's heroics.
"I just tried to get a ball up in the zone, something I could put a good swing on," said Ruf, who battled back from a 0-2 hole to hit a 3-2 fastball. "Try not to chase any of his pitches. That's kind of the approach from the start, but you kind of bear down a little more when you're behind in the count."
Phillies right-hander B.J. Rosenberg picked up the first save of his big league career, pitching a perfect ninth. Sandberg said closer Jonathan Papelbon was unavailable after pitching three times in the past four days.
Rosenberg made the most of his opportunity. He is 2-0 with one hold, one save and a 0.00 ERA in 9 2/3 innings since rejoining the team last month from Triple-A. He has allowed four hits, three walks and struck out 10 batters in that stretch.
"It was pretty cool with the crowd going crazy there with two strikes and two outs," said Rosenberg, who struck out Freddie Freeman swinging to end the game. "I was trying to stay within myself to control my emotions and stuff. It was definitely exciting."
Todd Zolecki is a reporter for MLB.com. This story was not subject to the approval of Major League Baseball or its clubs.